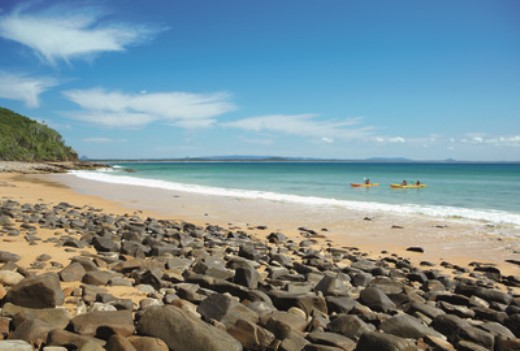 The Sunshine Coast has many beaches for all different types of activities! Most people associate surfing or tanning on the beach but I can assure you that's only about 10% of what you can do!
Beaches such as Mooloolaba have incredible cafes for meals and coffee. They also have a multiple bars to grab a tasty drink after sunset! The stretch of beach from Mooloolaba to Maroochydore has to be one of the best scenic beaches, with the option of walking on the actual beach or the footpath just above the beach. Other scenic walks along the beach include the Coolum boardwalk or the famous Noosa National Park.
If you crave the surf and the sun then any beach from Caloundra to Coolum would be suitable depending on the swell and weather forecast. Some favourite local areas would be Maroochydore and Kawana beaches which are very long open beaches where you can usually find a break to surf all by yourself. If the surf gets bigger then places like Noosa become a treat however do get quite crowded.
If weather doesn't permit you to be ON the beach, then there is ALWAYS coffee! There are some incredibly cute coffee shops around the Sunshine Coast! In proximity to the Sunshine Coast University, Maroochydore and Kawana have some exceptional coffee shops. For example 'Glass Coffee', 'Get Fresh', and 'The Silva Spoon' in Maroochydore or 'Little Miss Saine' or 'Twin Fin' or 'Get Fresh' in Kawana. Most of these coffee shops are open till 2pm but have ridiculously cute-surfy-chill vibes. Coffee shops like 'The Coffee Club' or other franchise businesses are in great locations and open till late hours of the night!
Sunrise and sunset are also amazing aspects of the coast! Great places for the best views include the top of Buderim lookout, Coolum lookout, Mount Coolum, the end of Noosa National Park walk, or basically anywhere the salt water touches the earth. A personal favourite being close to home is Alex wall, as it is a great place to put your picnic rug down grab a drink and watch the surfers while the sunset goes down. This spot however does fill up quite quickly especially during Spring and Autumn so make sure you get in early for the prime position!
The Sunshine Coast is an amazing place to balance work, study and play while promoting such an active lifestyle and filled with friendly people!
By Emily Chester – Study Sunshine Coast Student Ambassador
Back to all news