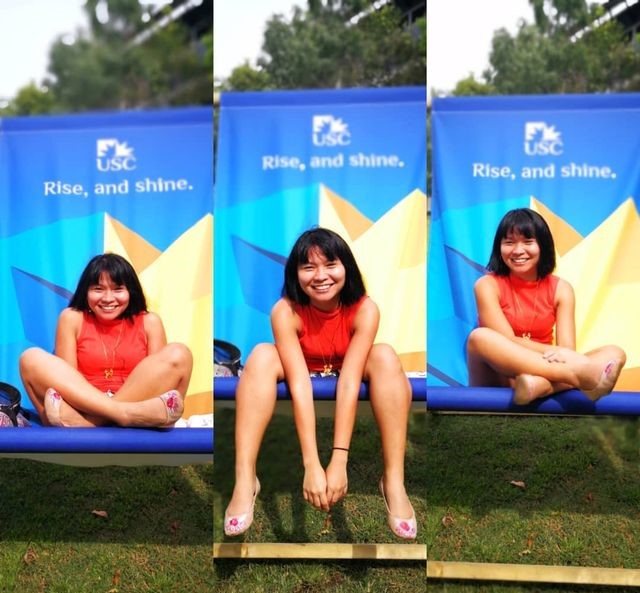 Study Sunshine Coast Student Ambassador Jean from The Philippines shares her tips on competing a student visa application to study in Australia!
"How did you get there?" Trust me, I received more than 10 messages from friends, families, or even those who aren't on my friend's list, asking how I got here in Australia. What are the requirements? How much money did I show for my visa to be approved? What IELTS score do I need to get for student visa? So, this post, is for anyone wanting to study here in Australia.
However, my best advice, is always – to seek help and advice from professionals. The agency who handled my application was AMS Global and they helped me a lot with my application. Most education providers will only process your enrolment through registered consulting agencies like AMS. I am only able to answer your enquiries because, I did a lot of research before processing my own visa application. So, I definitely know what to expect and not to expect during this rigorous process. Plus, I knew exactly what to ask, what documents to provide and how to get these documents before I met with my advisor.
1. What is your visa?
I am on student visa here, which is Subclass 500 Visa. I am currently taking Masters in International Business/Business Administration at the University of the Sunshine Coast (Sippy Downs Campus).
 2. What is a student visa or Subclass 500 and how much is the application fee?
A student visa allows you to study and work in Australia. However, you are only entitled to work for 40 hours/fortnight throughout your length of study. And yes, you can bring your spouse and children with you, if you have any. But this would mean, higher financial requirements. The application fee for a student visa is 00. 
 3. What are the requirements for student visa?
Confirmation of Enrolment (COE) or Letter of Offer

This is a document from the university or institution that proves you have enrolled to them.

Genuine Temporary Entrant

These documents should prove that you only intend to study in Australia, and nothing else. You must state your purpose, why do you want to study in Australia, your goals you want to achieve, your plans after you graduate, and confirmation that you are not going to live in Australia- forever and ever. This is in a form of a letter, supported by documents such as Statement of Purpose Letter- and I have been told, (and by experience, is quite true) this is your ticket to Australia.
You need to persuade the case officer your sincerity in your intentions of staying here- which solely to study.

Financial Requirements

This is the most-asked question I received from people! This is what we dub as "Show Money". For your student visa to be approved, you need to show that you have enough cash to sustain the following:
Tuition fees
Travel Expenses (transportation costs, plane tickets)
Living costs (accommodation, food)
In my experience, the financial requirement was quite high, as the expenses of my family in the Philippines had to be included in it.
 Financial Capacity- There are different ways on demonstrating your financial capabilities to sustain your study here in Australia, including the following:
              1. Provide evidence of funds to cover all your 12-month living costs (listed above).
             2. Provide proof of annual income of at least AUD 60,000.00 if it's just you who will be studying or AUD70,000 if you travel with your spouse.This income must be the personal income of                   your spouse or your parents. You can also combine income of your parents, if both are still working.
 English Proficiency Requirement

You need to provide an updated certificate on an English Language Test. For Student Visa, an acceptable English Score varies on your course, or level of education you are getting here in Australia.  More details on this link:  English Test Score Link
Australian Health Requirement or Medical Health Examinations  
Overseas Student Health Cover (OSHC)– You must get a health insurance policy that covers your duration of stay as a student in Australia. Mostly, the university will be the one to process this for you.
 4. What is a Post-Graduate Visa or subclass 485 visa?
This is a type of visa you can apply once you have graduated your bachelor's degree or masters here in Australia. This means, you will have another 2 years to stay in Australia, and this time, you have the ability to work full time!!! This is also the best time to apply for your permanent residency, if you want to.
"If you study for 2 years at a higher education level, you will automatically be entitled* to a 2-year post-study work visa. For more details, click the link: Post Graduate Visa
5. What are the differences between a Masters and a Bachelor Degree?
The answer to this is quite long, and tedious to explain. However, the main feature of getting a Masters here in Australia is that your dependents, if you have any, can work full time, unlike with studying a Bachelors Degree, where your dependent can only work 40 hours per fortnight. More details here: Work conditions for student visa holders and their dependents
However, getting a master's degree here has more requirements, than studying a bachelor's degree.
You're welcome!!!!
Jean Martha Degollacion
Study Sunshine Coast Student Ambassador and University of the Sunshine Coast International Student
References:
Back to all news