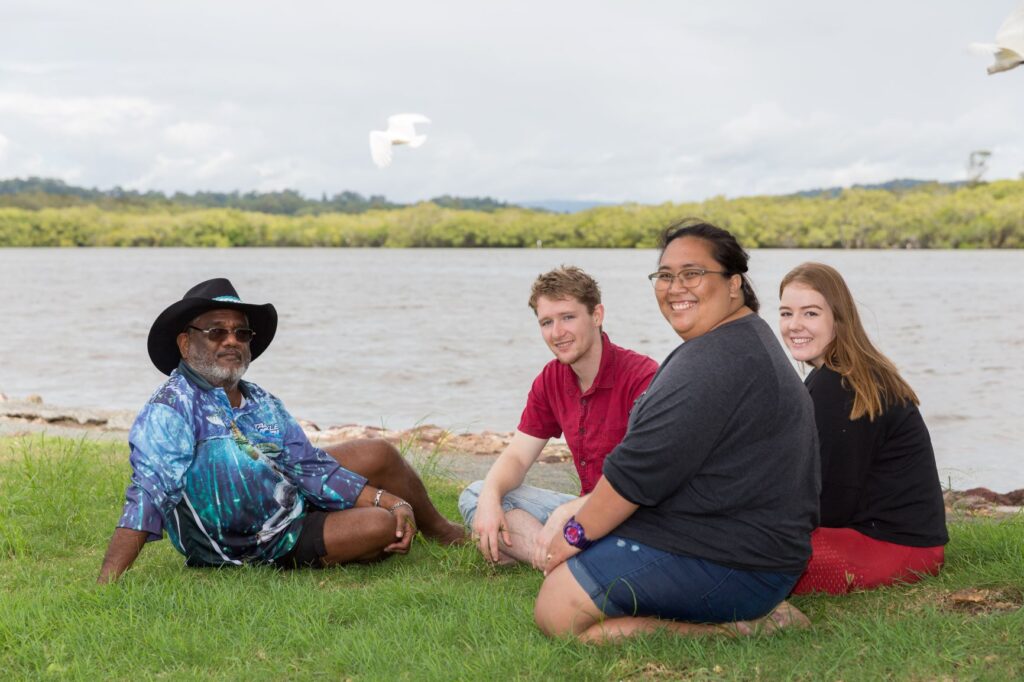 2019 Study Sunshine Coast Student Ambassador, Irene Tomarong has recently moved from the Philippines to the study a Master of International Business at the University of Sunshine Coast (USC).  She joins her brother and sister-in-law who encouraged her to come and enjoy the incredible quality of life and says she is loving the laid-back lifestyle.
"I have only been here for a few months, but I am really looking forward to learning more about the Australian culture," says Irene. "When I heard about the Student Ambassador Program, I thought it would be the perfect opportunity to get to know people and to find out about the Sunshine Coast."
Irene says that one of the highlights of the Program so far has been the Cultural Kayak Land Tour hosted by local Kabi Kabi elders. The company, Biral Tours is owned and operated by Sovereign Tribal Owner, Tais K'Reala Randanpi and offers a unique and authentic experience throughout the sacred land and waterways of the Sunshine Coast.
"I loved seeing how they catch their fish and learning more about the Aboriginal culture," says Irene. "It was a memorable day as it was also my very first swim in Australia!"
Irene has also been on a short bush walk in the hills near Obi Obi Road and has even tasted kangaroo meat. Along with several other Ambassadors was lucky enough to recently visit the TribalLink Centre at Mapleton. The TribalLink Centre offers amazing experiences of indigenous culture and Aboriginal learning outcomes.
Irene and the students participated in a walkabout in the pristine rainforest and sampled bushfood while learning about traditional land management techniques. She also tried her hand at boomerang throwing with local guide Michael. Irene is keen to explore more of the hinterland and has suggested that the next Ambassador Program involve a visit to the Ginger Factory, Australia Zoo and strawberry picking which are also on Irene's bucket list.
"The Sunshine Coast has such a relaxed life-style," says Irene. "I think it's much easier to have a work life balance here than in the Philippines. I love going to the beach when I get some time off from study and work. In the Philippines you have to pay to go to the beach. It's free here which I find amazing!"
Irene says that over time she hopes to overcome her fear of water. "Swimming does not come naturally but I would like to learn to kayak and become sportier!"
Irene is committed to a busy full-time study schedule. The Master of International Business program will equip her with high level skills to manage a business in the complex, competitive and challenging world of international business. She is learning about strategic management across global cultures, international trade and finance, and marketing in an international environment.  She is also acquiring advanced research techniques which she can apply to any area of international business helping to solve problems on the world stage.
Irene also has a Bachelor of Business Administration with a major in Human Resource Management and worked in this field in the Philippines. She would like to find work on the Sunshine Coast after completing her Masters.
She also has an interest in mental well-being. Irene volunteers as an event coordinator for a not-for-profit organisation called Spirit Hive. The founder Carren Smith is a Bali Bombing survivor and Spirit Hive's mission is to provide a resourceful haven for those suffering through life's challenges including anxiety, depression or suicide.
Having only been on the Sunshine Coast for a short time, Irene is already a huge advocate and is eager to share her new life through the Ambassador Program.
Back to all news