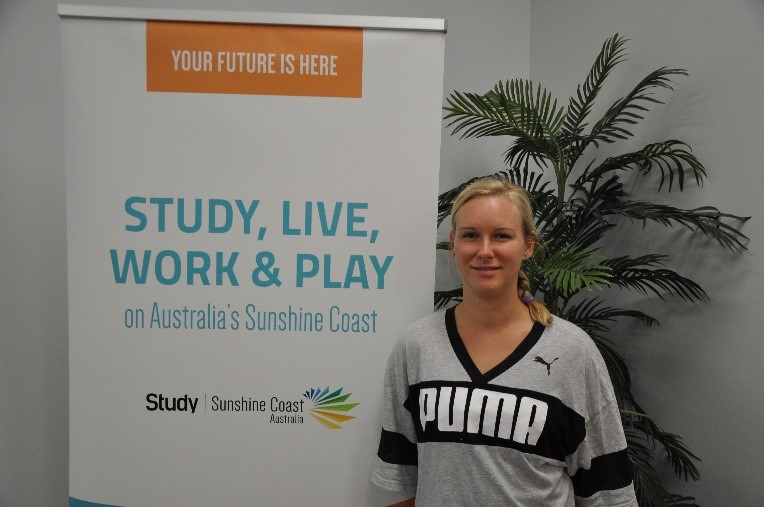 Study Sunshine Coast 2019 Student Ambassador, Sara Kusar moved to the Sunshine Coast from Sweden two years ago in search of adventure, sunny weather and a place to pursue further education.  Sara's passions are sport and event management and the courses at TAFE Queensland Sunshine Coast campus have provided her with the perfect opportunity to hone her skills.
After completing a Diploma in Sports Development at TAFE Queensland's Mooloolaba campus Sara decided to enrol in a double Diploma of Travel and Tourism Management and Event Management.  This advanced double qualification will equip Sara with the skills to become a tour operation or travel agency manager, conference or venue coordinator, or event or exhibition planner.
Sara is half way through her training and is acquiring highly specialised skills that will allow her to lead and manage people, coordinate marketing activities, manage budgets, prepare quotes, select venues and sites, and sell tourism products and services.
She also does a lot of voluntary event work at sporting events and is completing an internship at Sunshine Coast based company Atlas Multi Sports which involves four hours a week in the office. She is also helping out in the Ironman Sunshine Coast office. "I really enjoy the practical experience," says Sara.
"Once a week I also go for a run with my work colleagues which is a great social outlet.
"There are so many great running spots on the Sunshine Coast. My favourite place to run is along the pathway from Mooloolaba to Alexandra Headland, through Cotton Tree and to Maroochydore. I love running along the beach as the sun rises too."
Prior to moving to Australia Sara worked as a bus driver before moving into administration and customer service. Sara describes the move to the Sunshine Coast as a very positive new direction for her career and is always encouraging her friends to come and try it out.
"There are great work opportunities here too. As an international student I can work up to 40 hours per fortnight during the semester and unlimited hours during study breaks.
"I have a casual job at a local restaurant called Rice Boi in Mooloolaba. It is a very popular Asian fusion restaurant – that's another wonderful thing about living here. The food is great!"
Work that is formally registered as part of a course is not included in the 40 hours per fortnight limitation which allows students to take up internships and voluntary work related to their area of study.
Family members who are granted permission to work can work up to 40 hours per fortnight at all times unless the primary visa holder has commenced a course towards a masters or doctoral degree and holds a Student visa (subclass 500). In this case there is no limit on the number of hours a family member might work.
The Department of Home Affairs provides comprehensive information on the terms and conditions of student visas.
Sara is also a huge fan of the weather on the Sunshine Coast which makes it easy to be active and healthy. "It's just perfect for me," she says.
Back to all news