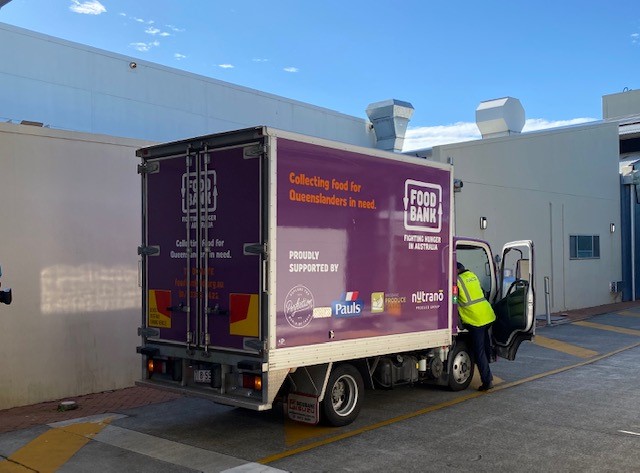 Sunshine Coast students doing it tough during the global pandemic now have access to free, ready-made, nutritious meals they can access to help them focus on their studies thanks to the Study Sunshine Coast Food Services initiative. Students from USC, TAFE Queensland, Mindroom and Lexis English have been accessing these services.
USC has made the meals available to both international and domestic students at six campuses from Fraser Coast to Southbank – in partnership with Study Sunshine Coast, Study Brisbane, Urban Angels Community Kitchen, and Foodbank Australia's FareShare program.
The nutritious meals include roast pork and vegetables, fried rice, large curries and spaghetti Bolognese and cater for all dietary requirements including vegan and gluten free.
USC Pro Vice-Chancellor (Students) Professor Denise Wood AM said many international students were struggling to make ends meet, either unable to return home or access financial support due to restrictions during the global pandemic.
"International students don't qualify for any welfare in Australia and many have lost their jobs in the crisis but can't get back home to their support networks," she said. "So this is a way we can support them further as they gain their qualifications.
"They are able to visit their local campus, fill their bags with high-quality, nourishing meals and take them home, knowing that the service will continue at least until their exams in June.
"It takes away the stress of wondering where the next meal is going to come from."
Business and business psychology student Mona Bluemke from Germany said she was grateful to be able to take home several vegetarian and gluten-free meals at a time, as she completed her final year of study at USC on exchange from Hochshule Bonn-Rhein-Sieg.
"It's very lovely and I feel very supported by the university and the student guild. I do get some support from my parents back home, but it's still hard to find the right food in the supermarkets," she said.
"Many of my fellow international students have gone home because they have lost their jobs or do not have the financial help from their parents."
This new delivery this week of ready-meals for international students are being arranged by two organisations – Brisbane Marketing's Study Brisbane and Study Sunshine Coast – and cooked by FareShare using fresh ingredients donated by Woolworths and Foodbank Queensland.
Study Sunshine Coast Program Manager, Tracey Coobula, said there had been an enormous amount of support for the free meal program which was helping students from over 160 countries.
"We have been overwhelmed by the generosity of these food service providers who have upscaled so quickly to include our international student community here. Students have been so heartened to know that the community wants to help them so they can continue to reach their education goals in Australia," she said.
Professor Wood said USC had now also been able to extend the free meals to domestic students through their existing relationship with Urban Angels Community Kitchen and OZHarvest. This is a separate partnership through which USC has been providing an increasing number of meals and fresh produce to international students for nearly eight weeks.
"This will make a huge difference to students, particularly single parents who know they have a nutritious meal they can just warm up and not have to put too much effort into, meaning they can continue to focus on their studies," she said.
Episode 2 – Coping with COVID-19 video series explains what free food services are available to Sunshine Coast students to access.  For more information please watch the video below.
Back to all news