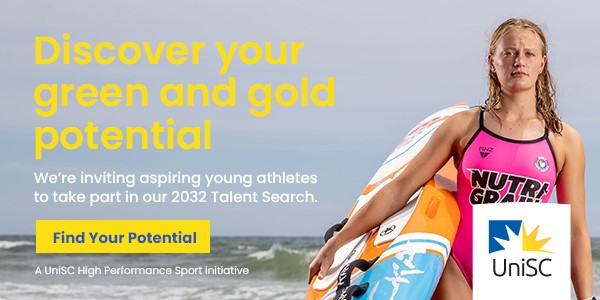 Exciting times are ahead as we look forward to a home Olympics in 2032, and the University of the Sunshine Coast (UniSC) is looking for aspiring young athletes ready to start their sporting journey!

UniSC's High-Performance Sport department is hosting a Talent Identification Program supported by Sunshine Coast Council, Study Sunshine Coast and UniSC.
The 2032 Talent Search is a chance for young athletes in Years 10-12 to explore what sports they might best be suited for, and it's an opportunity for them to discover a new sport pathway. Athletes will also learn about UniSC's High-Performance Student Athlete program and have the potential to be referred to a QAS pathway.

This one-of-a-kind program offers Talent ID testing in line with QAS and AIS protocols, sport and education workshops and a tour of the facilities at UniSC.
Program Details:

Program:  The full-day program offers a sports and education workshop, a tour of the facilities at UniSC, plus Talent ID testing.
Who: Passionate and motivated young athletes in Years 10-12.
Time: 10am – 2:45pm 
When: Attendance required on one of the following dates TBC:
            – Monday, 24th October
            – Tuesday, 25th October
            – Monday, 31st October
            – Thursday, 3rd November
Transport: Please contact us at hpsport@usc.edu.au if you need to discuss travel arrangements from your school to/from UniSC.
Registration: Students will need to register through their school HPE teacher, sports coordinator or year level coordinator here: UniSC TID Registration
Back to all news