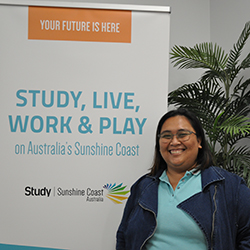 Study Sunshine Coast has been celebrating our amazing volunteers this week as part of National Volunteer Week. In recent times we have been inundated with volunteers helping make the critical free Food Services initiative happen to help students during the COVID-19 crisis. One volunteer in particular, Irene Tomarong, has been a shining light during this crisis and gone over and above to help her fellow students.
Irene a 2019 Study Sunshine Coast Ambassador and current USC Business Student has been assisting Study Sunshine Coast distribute food produce, pantry items and ready meals to vulnerable students across the Coast during this time. These food supplies have been much needed for students who have been unable to earn an income during COVID-19 and relying on savings to get them by.
Irene has done this in addition to continuing her university studies online, participating in the eight week Global Citizen Scholarship Program and volunteering on the Study Queensland Student Advisory Panel.
Congratulations Irene for all of your efforts and volunteer work over the past few months. You epitomise what it means to be of service and always do it with such a positive energy and attitude. Well done!
Back to all news