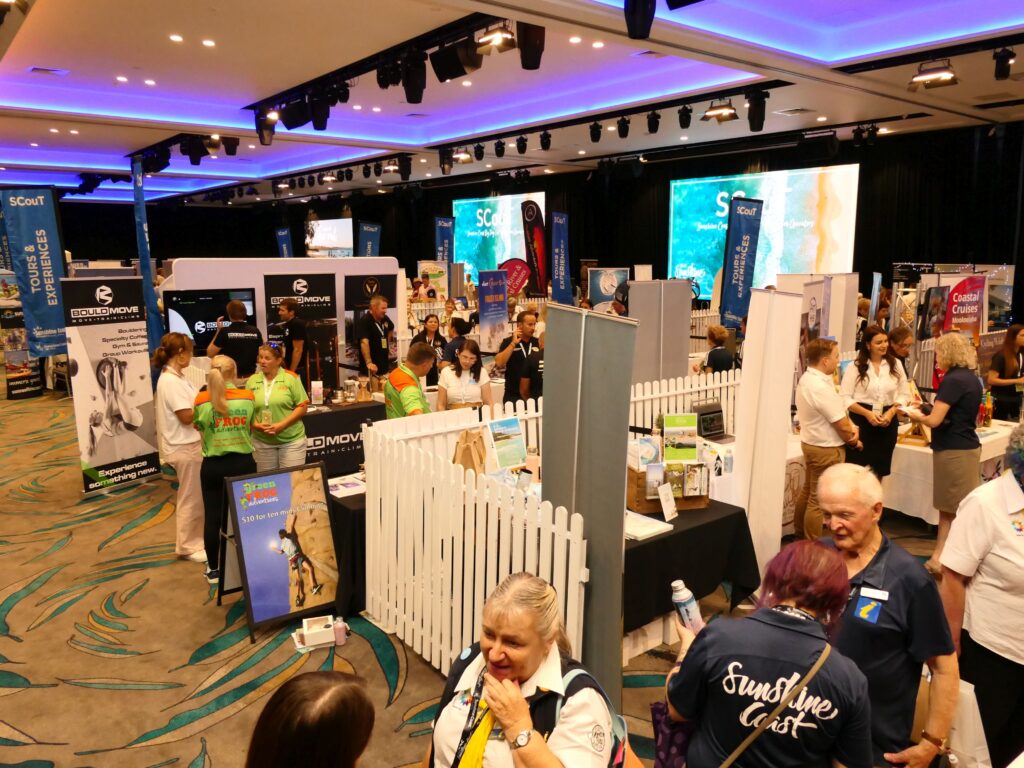 Study Sunshine Coast joined more than 500 tourism industry professionals and Visitor Information Centre volunteers at the Sunshine Coast Convention Centre for the region's largest tourism exchange of the year: SCouT 2021.
The event themed to celebrate the Year of Indigenous Tourism provides a forum for tourism operators to connect with accommodation providers and industry professionals to promote their product, form working relationships and grow referrals.
SCouT 2021 was held by Visit Sunshine Coast (VSC) in partnership with Sunshine Coast Council (SCC) and saw more than 100 tourism operators from across attractions, events, restaurants and immersive encounters exhibit their product, and 40 TAFE Queensland Events & Tourism Students assist with the event.
Visit Sunshine Coast CEO Matt Stoeckel said encouraging our local tourism industry to form partnerships and promote the region's attractions is vital for ensuring Sunshine Coast tourism continues to recover from COVID-19.
"As an industry it's important we work together to continually expand on our tourism offerings and encourage referrals," he said.
"We have so many fantastic attractions, restaurants, events and immersive encounters across the region for tourists to visit and explore, which all add to the appeal of the Sunshine Coast and importantly encourage visitors to stay longer and spend more in the region."
Economy Portfolio Councillor Jason O'Pray said the forum was a great way for local operators to nurture business ideas and opportunities within our tourism industry to ensure our healthy, smart, creative region continues to be seen as a safe and vibrant holiday destination.
"Collaboration is so important right now for our tourism industry, from shared learnings from 2020 to potential new opportunities that cater to the growth of inter-state and intrastate market we have seen these last few months," Cr O'Pray said.
Tracey Coobula, Program Director at Study Sunshine Coast agrees "We loved the sentiment of Connection, Communication and Collaboration woven right through this event, which ties in so well with the development and potential of edutourism for the region. It's a really exciting time for education and tourism partnerships on the Sunshine Coast.
Sunshine Coast Craft Beer Tours owner Josh Donohoe considers the Sunshine Coast as the craft beer-brewing capital of Queensland.
"I believe to be successful in our tourism landscape, it's vital for us as tourism operators to collaborate and package together so that we create unique and compelling experiences for visitors to holiday in our region."
Back to all news