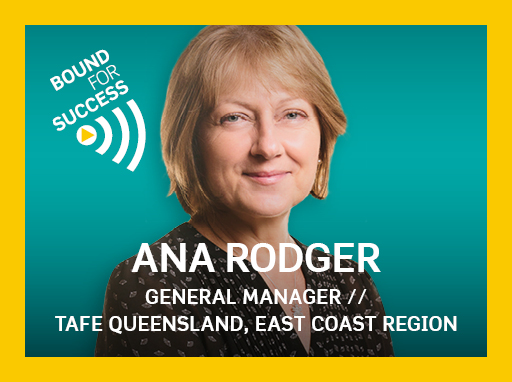 In the latest instalment of Bound for Success, inspirational leader and TAFE Queensland's East Coast General Manager Ana Rodger is featured. "In a leadership role one must always consider the development of others." Rodger is a passionate, knowledgeable and a powerful advocate for education, with a particular passion for the world-class education offered right here on the Sunshine Coast.
TAFE Queensland East Coast region is Queensland's largest and most experienced provider of education and vocational training. Rodger worked her way through a wide variety of roles in TAFE Queensland, developing a strong understanding of the education sector,  the running of an organisation and gaining valuable leadership skills along the way.
In this episode Ana offers great insight into leadership which focuses on others, developing their skills and helping others shine. She also discusses how TAFE Queensland continued to thrive through the early stages of COVID in Australia and how the pandemic altered the business model of TAFE Queensland. In addition, Rodger discusses why the Sunshine Coast is a unique destination for a world-class education.
Back to all news