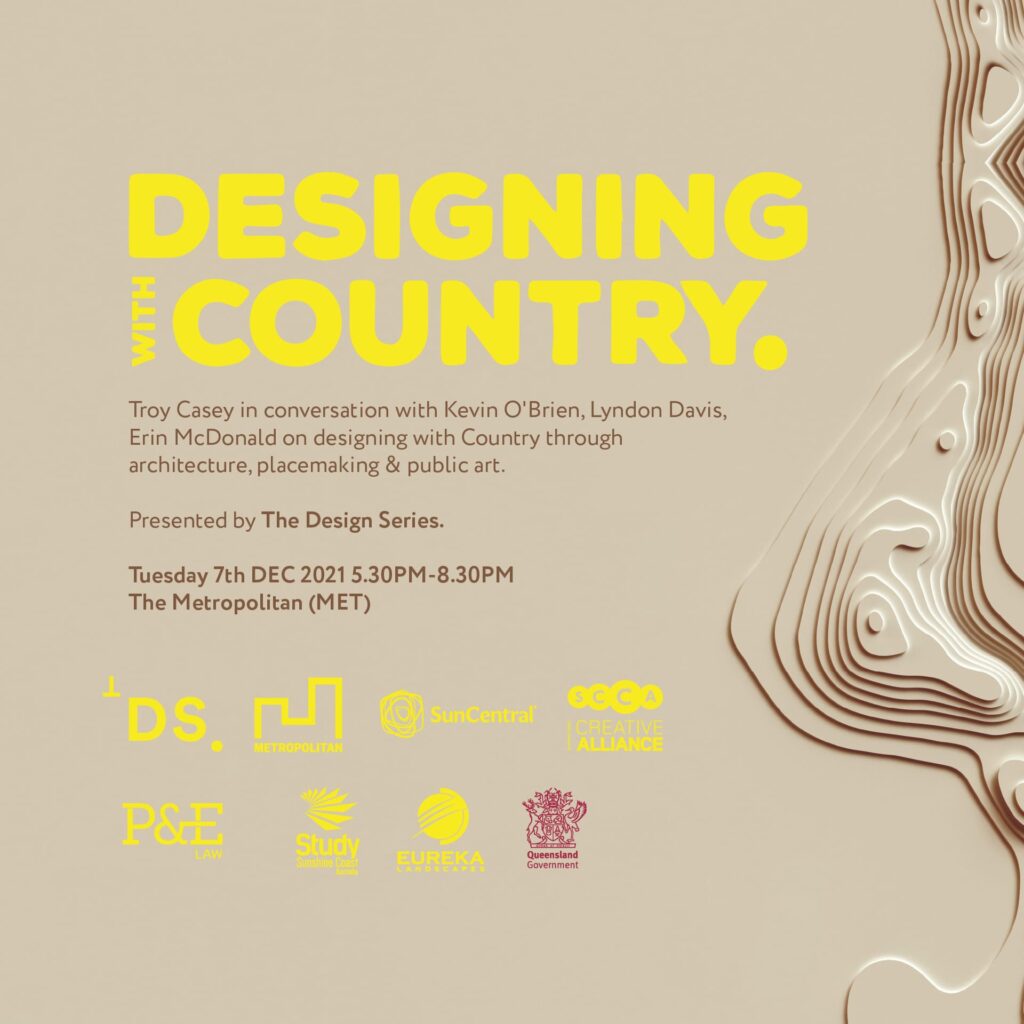 The Metropolitan in Maroochydore is proud to present Designing with Country through architecture, placemaking and public art on Tuesday 7th December 2021. As part of The Design Series Troy Casey will be in conversation with Kevin O'Brien, Lyndon Davis, Erin McDonald. Together they will weave a narrative and share their experience in this emerging new Australian design ethos, one that responds to the essence of Country and its people. Tickets are still available now.
About the panel…
Troy Casey – Co-Director Blaklash. Troy is passionate about harnessing economic opportunities to create positive social change for First Nations Australians. He combines his extensive community engagement experience spanning the government, not-for-profit and higher education sectors, with his curatorial practice, working collaboratively with communities to ensure First Nations voices are embedded across projects within public art, placemaking, and urban design.
Kevin O'Brien – Kevin O'Brien is an architect and principal at BVN Architecture. He has established a Designing with Country methodology for the practice that now influences all architectural and urban design projects. The most recent example being the QUT Campus to Country: Positioning Strategy that will guide the future direction of the campus and outlines QUTS's aspiration of its place = reflective of culture both past and present.
Erin McDonald – Erin is a proud Aboriginal woman who embeds her culture throughout the design process. She pushes the boundaries through a holistic approach in translating Indigenous technologies to embed cultural identity into the built environment. Erin is passionate about educating designers to think innovatively in an approach to provide economic growth for communities.
Lyndon Davis – Lyndon Davis is an Indigenous presenter, performer, educator and artist. Lyndon was born and raised on the Sunshine Coast and is a Traditional Custodian and representative of the Local Gubbi Gubbi / Kabi Kabi people.
As our final event of 2021, this will also double as our collective industry celebration! Bar open and operated by the Sunshine Coast Creative Alliance – profits direct to local art projects.
HUGE thanks to the sponsors for this event – Planning Institute of Australia, P&E Law, Eureka Landscapes and Study Sunshine Coast.
The Design Series is presented by SunCentral and the MET in partnership with key industry groups AIA, AILA, EA, QLD Government, SCCA & PLA.
The Design Series has been created to deliver thought provoking content and facilitate connections across key industry groups from the Arts, Architecture, Digital, Engineering, Environment, Landscape and Planning Sectors.
** We are managing this event in line with current government COVID-19 guidelines and operating with COVID Event Safe Plans. We understand the changing nature of this environment and should current pandemic measures change, we will refund all tickets purchased.
Back to all news