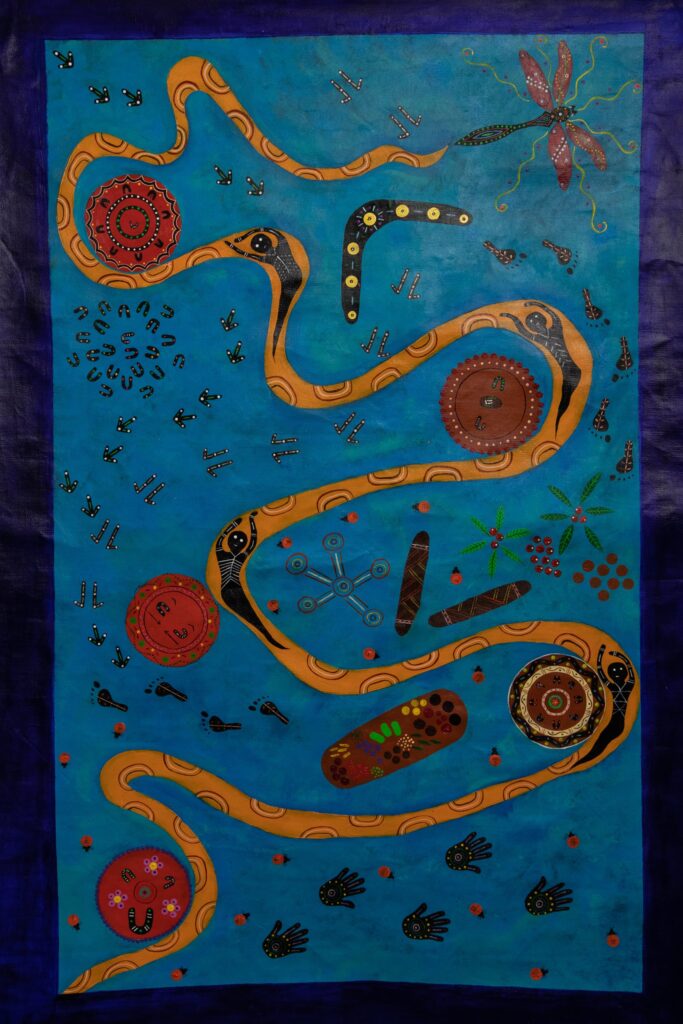 NuunaRon is an inspirational and talented group of local First Nations artists who live with a disability and from today, throughout May, their works will be on show in the Culture is Inclusion exhibition at the Arts and Ecology centre, Maroochy Bushland Botanic Gardens.
The exhibition is a partnership between Caloundra Regional Gallery and the First Peoples Disability Network Australia (FPDN).
First Peoples Disability Network national training and resource development manager and artist Uncle Paul Calcott said the NuunaRon group provided a safe space for people to connect to culture and keep strong via yarning, painting and creating art.
"The name NuunaRon is used in memory of and out of respect for two elders, Aunty Nuuna, a saltwater Noonuccal woman from Stradbroke and Uncle Ron, a Kamilaroi man. These beautiful artists, who have since passed over to The Dreaming, lived with disability and made a valuable contribution to supporting others who lived with disability," Uncle Paul said.
True to the name Culture is Inclusion, some of the NuunaRon artists will gather each Wednesday at the Arts and Ecology centre to share their culture and stories with others.
Sunshine Coast community portfolio councillor David Law said establishing and delivering arts programming opportunities in partnership with First Nations artists was a key action from the Sunshine Coast Arts Plan 2018 – 2038.
"This plan is the first for our region and is inspired by our First Nations people and the role of the arts as a source of celebration, connection, information and ingenuity." Cr Law said.
The exhibition is part of Connecting Stories, which brings together galleries from across the region to showcase First Nations art and share stories across Country to celebrate culture and connect.
Connecting Stories was developed by Creative Arts Alliance in partnership with Blaklash Creative and the South East Queensland North (SEQN) Galleries Network. It is supported by the SEQN Regional Arts Services Network (RASN) funded by Arts Queensland.
Caloundra Regional Gallery Curator Jo Duke said a collaboration with NuunaRon art group had been on the cards for some time.
"The gallery had been in discussion with Uncle Paul about profiling the artworks of the NuunaRon art group as our NAIDOC 2020 Always Was Always will be exhibition at the Maroochydore Library Artspace, which unfortunately didn't happen due to COVID shut down," Ms Duke said.
"So when the RASN started talking about a month-long celebration of all things First Nations in Connecting Stories, we quickly thought of the NuunaRon art group and suggested that they would be a wonderful group to profile.
"We are very privileged and grateful to the 10 First Nations Artists, who all live in our region, for sharing their stories of connection to family, country and their own personal journeys both through art and in their own words."
The exhibition is on at the Maroochy Arts and Ecology Centre, Tanawha from 1 – 30 May, Tuesday to Sunday 10am–2pm.
NuunaRon artists will be in the space each Wednesday during the exhibition and invite everyone to come along and have a yarn.
Back to all news