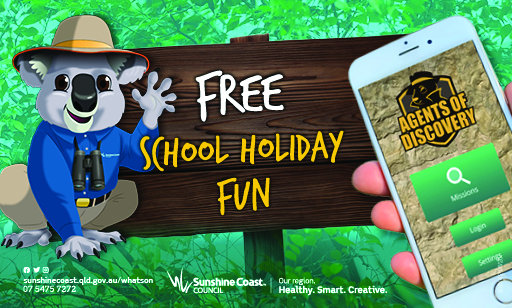 School holidays are on again, and Sunshine Coast Council, Sunshine Coast Libraries and the Caloundra Regional Gallery have some free activities to get you out of the house – or keep kids entertained inside on a rainy day.
Become an Agent of Discovery
Turn your kids into nature agents at the Maroochy Regional Bushland Botanic Garden or the Maroochy Wetlands Sanctuary. Download the free Agents of Discovery app, choose a mission and go on a self-guided tour to unlock nature's secrets. Great for ages five to 10 years.
Enter a realistic bird art competition
Does your child like to draw birds? Unleash their creativity and enter their art into the competition for realistic Australian bird art. They would be in with the chance to win a share of $1000, donated by the Friends of Caloundra Regional Gallery. The Holmes Prize for Realistic Australian Bird Art is a children's art exhibition with three age categories – Under eight years, Under 13 years and Under 18 years. Entries close 15 August, 2020.
Try A Forest in My Pocket thanks to Horizon Festival
Horizon has teamed up with illustrator and animator Helena Papageorgiou to create this magical, augmented reality adventure for children. With a little help from parents, your child will be lead on a trail of discovery to find magic in their homes and little worlds in their backyards. A Forest in My Pocket uses print-at-home images that come to life via augmented reality using the EyeJack app. Available from 1 July.
Go on a drive through the hinterland to Montville's Russell Family Park
Pack a picnic and explore the upgraded Russell Family Park at 198 Main Street, Montville. Recently completed, the cone-structured playground stands just under 10 metres high with butterflies eclipsing the tip of the equipment. The park also includes a spinner bowl, waterlily spring toy and slippery slide twisting to the ground. There's great interweaving pathways so don't forget the scooter! Great for the whole family.
Back to all news