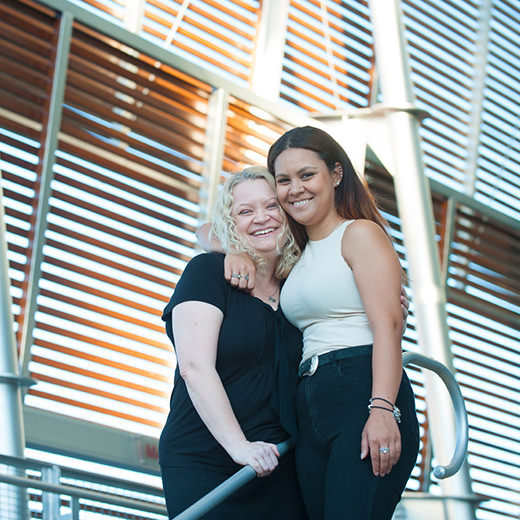 When Ann Yardley studied information communications and technology after enrolling in the first cohort of students at the University of the Sunshine Coast in 1996, she didn't own a computer.
"It's crazy, looking back on it, but the small student group meant I could get plenty of time in the campus computer rooms," said Ms Yardley of Twin Waters.
She had moved with her toddler daughter Shari from Mt Druitt in Sydney to the Sunshine Coast for a better life, and USC lecturers nurtured her aptitude for business and computers.
In 1999, Ms Yardley graduated with a Bachelor of Business (Information Systems) and gained a job at the former Maroochy Shire Council.
In 2014, she watched with pride as Shari graduated from USC in Nursing Science.
In 2015, Ms Yardley flew back to Sydney to be presented with the national award of ICT Professional of the Year in the government sector.
That was the same year that her hometown of Mt Druitt featured in the national television documentary, 'Struggle Street'.
The amazing personal and professional trajectory of Ann Yardley, one of the University of the Sunshine Coast's first students and first graduates, features in the new book, 'Visions', newly released to celebrate USC's 20th anniversary.
Ms Yardley is now the Business Solutions and Strategy Coordinator at Sunshine Coast Council, delighting in continuing a career in the region she loves.
"I am involved in digital and smart technology programs and it's the most exciting and challenging time in ICT since I started my career 17 years ago," she said.
Shari now works at the new Sunshine Coast University Private Hospital at Birtinya.
'Visions', published by USC, sells for $24.95 at the Co-op Bookshop on campus at Sippy Downs. Call 5430 1205, email usc@coop.com.au, go to www.usc.edu.au/story.
Article originally appeared on the University of the Sunshine Coast website here – 23 March 2016.
Back to all news