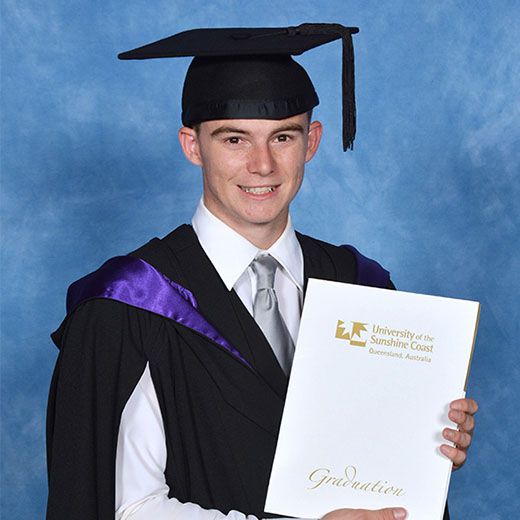 A University of the Sunshine Coast Environmental Science graduate believes tiny drones and fixed surf cameras could be the solution to safely measuring the depth of surf zones.
Ashley Rummell, originally of Hervey Bay, recently graduated with a Bachelor of Environmental Science from USC and is researching coastal geomorphology as part of a Bachelor of Science Honours degree.
"If this measuring system works, it could help in surf life saving to more accurately measure water depth and gutters to identify dangerous rip currents," Ashley said.
Ashely's Honours thesis, supervised by Lecturer in Physical Geography Dr Javier Leon, is part of a collaborative project with Sunshine Coast Council.
The project aims to use small, unmanned aerial vehicles and cameras that are fixed to high poles and surf life saving patrol towers to record video of Maroochydore's beach surf zone. Data collected about the distance and time between waves will be converted into maps of the seafloor.
"Drones have never been used to measure the depth of a surf zone in Australia," Ashley said. "Currently the only way is to go into the surf on boats, jet skis or kayaks and use depth echo sounders or surveying poles, which can dangerous in rough conditions."
Ashely said the system had the potential to provide a safer, more cost-effective way to measure surf zones, and could have wider application for marine research.
"It is hoped that it could be replicated in other studies to measure erosion rates, or used in ecology studies to compare the abundance or diversity of species in particular surf zone features, such as sand bars," he said.
The former Xavier Catholic College student said his passion for all things marine was nurtured by visits to World Heritage icon Fraser Island, the world's largest sand island, and boating and fishing in the surrounding Great Sandy Marine Park.
Ashley said he chose to study at USC because of its closeness to Hervey Bay and because the coastal lifestyle suited his degree.
"At USC, I found the teaching was of great quality as the lecturers and tutors were approachable, and the field work was really interesting," said Ashley, who is now also working as a tutor at USC.
"I decided to extend my learning to Honours to increase my chances of securing a job in marine management, or to continue further research in ecology or geomorphology."
Article originally published on University of the Sunshine Coast website here – 21 April 2016.
Back to all news