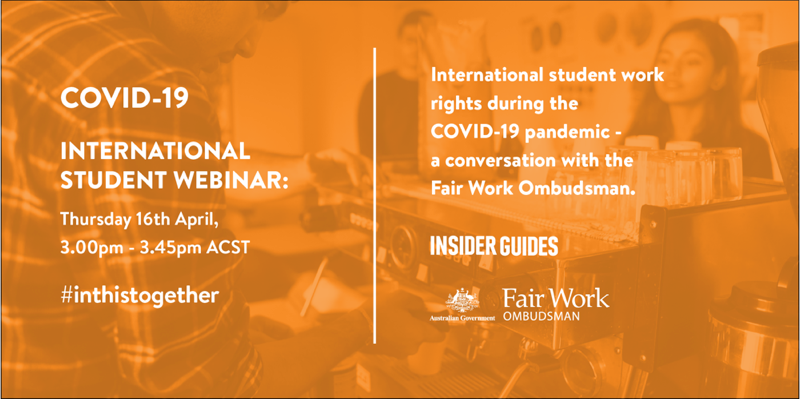 Join the Insider Guides for a webinar discussion tomorrow to hear from Ying Zheng, Assistant Director at the Fair Work Ombudsman, about international student work rights during the COVID-19 pandemic.
We understand that recent weeks have been particularly challenging for many of the international students currently in Australia. There are lots of uncertainties and often confusion about how changes to Australian workplace laws affects international students and temporary visa holders. Ying will provide an update on support currently in place and help answer some of your questions such as;
– What are my basic workplace entitlements?
– My employer has had to close and I have been stood down without pay, what does this mean?
– I lost my job, what does this mean for my student visa?
– What rules does my employer have to follow? What about me?
– Where can I get more information?
There will be opportunity to ask Ying questions during the webinar in the Q&A chat, but if there is anything you'd particularly like discussed please let us know during registration.
For information about your visa, please visit the Department of Home Affairs' website: https://covid19.homeaffairs.gov.au/frequently-asked-questions
Apr 16, 2020 03:00 PM in Adelaide / 2.30 PM in Queensland
Back to all news