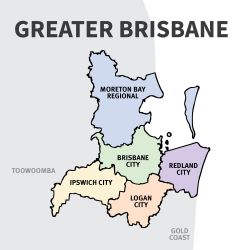 From 12pm (midday) AEST Thursday 1 April 2021 to Thursday 15 April 2021, restrictions will ease in greater Brisbane. All of Queensland will be subject to the same restrictions:
Masks for Queensland
You must carry a face mask with you at all times when you leave home, unless you have a lawful reason not to.
You must wear a mask in indoor spaces.
It is strongly recommended you wear a mask when outdoors if you are unable to stay more than 1.5m distance from other people, such as busy walkways and thoroughfares.
Masks do not need to be worn in some circumstances, including children under 12 years, if you have certain medical conditions, and in workplaces where it is not safe to do so.
You can remove your mask to consume food or drink.
Contact tracing alerts
Contact tracing alerts have been issued for locations visited in greater Brisbane, Gladstone, Gold Coast and Byron Bay.
We will continue to closely monitor the situation. Please check back for any updates.
COVID Safe celebrations and holidays
Easter
We want everyone to have a safe and happy Easter. We'd like to remind all Queensland residents and visitors to stay up to date with the latest health directions that will be in place over the long weekend and school holidays.
If you are indulging this Easter, remember to drink water straight after eating any sweet treats to help wash away residual sugars. Your teeth and your dentist will thank you!
If you are travelling this Easter, remember:
If you are flying, you must wear a face mask at all times at the airport and on the plane
If the space you are in is or becomes overcrowded, move elsewhere or choose to return at an off-peak time.
Make hygiene your number one priority when travelling. This is recommended regardless of whether you are staying in a hotel or in a camping ground. Always carry tissues and hand sanitiser.
Check in to all venues to assist with contact tracing.
If you are travelling interstate, check your destination's state government travel restrictions for the latest information.
Back to all news