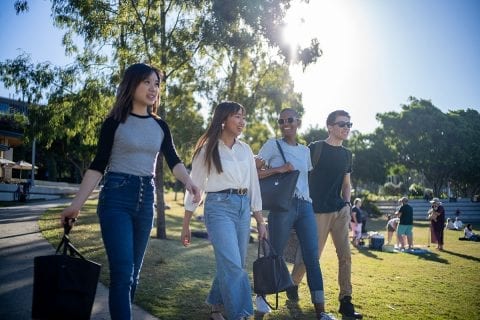 Sunshine Coast students can now freely access the Study Australia Work Readiness Program. As part of Austrade's ongoing Digital Education Hub program, they are pleased to launch a new suite of micro-credentials for both international students and graduates. The first of these is their Work Readiness Micro-credential, providing tailored tools and resources for successfully navigating the jobs market in Australia and around the world.
Developed in partnership with Successful Graduate, the Work Readiness Micro-credential course is freely available to all international students: graduates, current and prospective; onshore and offshore.
The Study Australia Work Readiness course is designed to support international students and graduates to find meaningful employment, towards realising their career goals. Students and graduates who complete the course will receive a digital certificate of completion that can be shared with professional networks and potential employers, for example via LinkedIn.
Course content features include:
an introduction on how to apply for internships and part-time work
bespoke resources on entrepreneurship, personality tests and managing work relationships
tailored videos and training resources on preparing for graduate job searches
employability tools including application templates, interview tips, negotiation tips and support for handling the first day in a new job.
Development of the Work Readiness Micro-credential, together with a new suite of digital services and resources, has been designed to support ongoing engagement with Australia's global student community. It has also been designed to add complementary value to an Australian qualification, enhance the student experience, and support improved work-while-you-study and graduate outcomes.
New digital resources are also being developed in order to provide access to prospective students and showcase Australia's strengths in employability.
Access the Work Readiness Micro-credential course here.
Back to all news