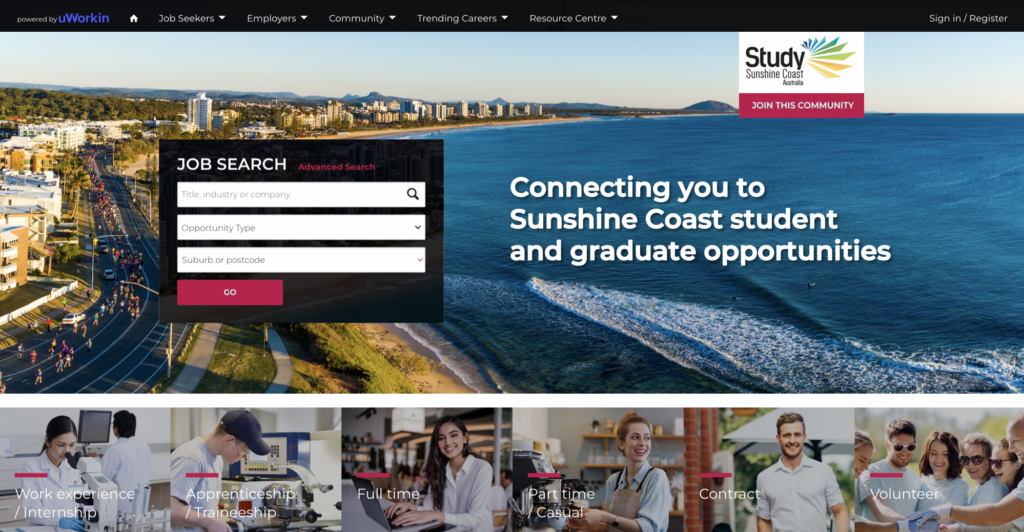 The Sunshine Coast Student Jobs Platform is coming soon. The new platform will connect students and graduates with industry and job opportunities here on the Sunshine Coast
The Sunshine Coast is not only a great place to study and live, but also a great place for students to work and kick-start their career. Whether students are looking for a casual job to get them through their studies or a permanent career to put their studies into practice, the Sunshine Coast delivers outstanding career pathways and choices for students.
There are career and job prospects across many industries such as Health, Agriculture, Retail,
Construction, Tourism and Hospitality, Sport and Events, IT and business, for students to put their
studies into practice as well as work opportunities to support students while they are studying.
The Sunshine Coast Student Jobs Platform is launching next week and will connect students and graduates and local industry by showcasing the latest jobs and career opportunities here in our Sunshine Coast region.
Using this platform students and graduates can search for the latest job opportunities through an automated and tailored Sunshine Coast regional job feed. Users can also sign up to automated job alerts and job shortlists.

Students and graduates can not only use the platform to search the latest job opportunities, you can also search featured jobs across the Sunshine Coast's trending industries, career pathways in growth and skills needed.
Students and graduates can search all the available opportunities based on the type of role you are searching for including internships, work experience, part-time jobs, casual jobs, volunteer roles, graduate positions and entry level positions.

Local industry and employers can post a job at no cost and can use in-built applications tracking tools. Approved employers and admins can also use the AirCV Job Seeker Profiles to search the talent pool.

Stay tuned to studysunshinecoast.com.au for more information about the new Sunshine Coast Student Jobs platform.
Back to all news