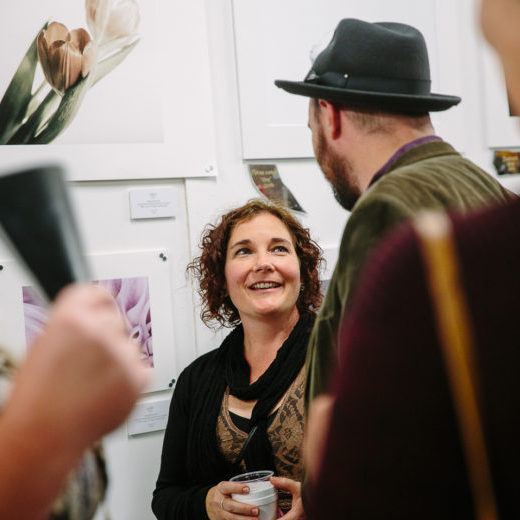 The creative talent of graduating Sunshine Coast students was celebrated and admired last Friday night at the TAFE Queensland East Coast 2016 Creative Showcase in Nambour.
The event held at the TAFE Queensland East Coast Nambour campus saw 28 graduating Diploma students studying graphic design, photography and visual arts come together for one fascinating display of creativity.
Study Sunshine Coast Student Ambassador and TAFE Queensland East Coast photography student, Amanda Fiedler, showcased her talents on the night and was awarded the runner up prize in the photography category.
Ms Fiedler said the award was very humbling and she owes her success to the quality of education, support and encouragement she received from her teachers and other TAFE Queensland East Coast staff throughout her studies.
"It wouldn't have happened without the wonderful teachers and facilities at TAFE Queensland East Coast. I can't thank them enough for all of their support," Ms Fiedler said.
"It was such a proud moment for me to exhibit my work in front of my peers, family and friends.
"It's an incredibly satisfying feeling having all of your hard work recognised and commended."
Ms Fiedler plans on continuing her studies in the creative industry on the Sunshine Coast as she believes the education offering across the region is second to none.
"The Sunshine Coast might not be a big city like Brisbane, Sydney or Melbourne with huge education institutions but I don't see that as a bad thing," Ms Fiedler said.
"I like how at TAFE you get more one-on-one contact with your teachers and really engage with everyone on campus on a more personal level which brings out the best in you as a creative and as a student."
The TAFE Queensland East Coast Creative Showcase was attended by over 350 people including other students, staff, family, friends, industry representatives and past students who all came together to admire the students hard work and talents.
Former TAFE Queensland East Coast graphic design student Alita Cobb attended the Showcase to support the students and help judge the graphic design prize, in the hopes of inspiring and encouraging the graduating students to make the most of the opportunity to show off their work.
Miss Cobb said the Creative Showcase provides students with a goal to aspire to throughout their studies and also offers great prospects to secure work experience and employment after graduation.
"I met key people from industry at my Showcase in 2015 which was amazing because I ended up getting some work experience and eventually a full-time job as a designer in a Sunshine Coast agency," Miss Cobb said.
"TAFE Queensland East Coast has strong relationships with local businesses on the Coast which provides great career pathways for students."
Ms Cobb encourages anybody who is considering studying a creative course to speak to the staff at TAFE Queensland East Coast because the programs on offer provide students with the practical and hands-on experience needed to be industry ready come graduation.
For anyone inspired to start their own creative career please visit the TAFE Queensland East Coast website (www.tafeeastcoast.com.au) or call 1300 656 188 to enquire about enrolments for the July intake courses for graphic design, photography and visual arts.
Back to all news