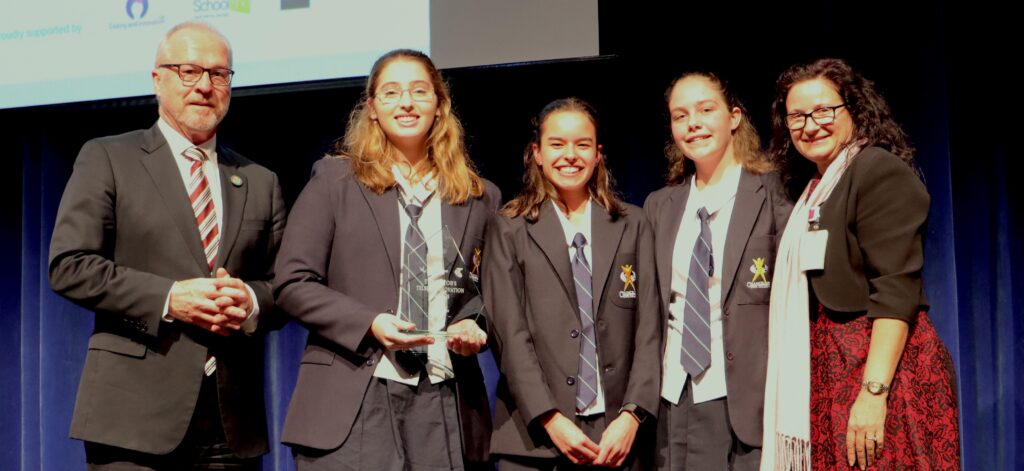 The region's best and brightest young people brought their innovative ideas to life last night in what can only be described as a truly impressive display of talent, creativity and ideas at the Mayor's Telstra Innovation Awards.
The all-girl team RoboGems from Chancellor State College took out the top prize with their entry of Parki-bit, a wearable device aimed at assisting sufferers of Parkinson's disease.
Chancellor State College Robotics and Engineering Lead Teacher Simon Richardson was thrilled with the result.
"Chancellor State College is extremely proud of our team winning what has become a prestigious annual event," Mr Richardson said.
"Hundreds of hours have been put into these futuristic prototypes, combining all of the skills involved in STEM.
"Competing in the Mayor's Telstra Innovation Awards has empowered our students with the grit, drive and business acumen required to endure the first years of running a tech start-up company.
"As a result, Chancellor State College senior students have already launched four profit-making technology businesses this year," he said.
Jasmin Harrison from Saint Andrew's Anglican College's team StudyVerse was awarded the 2019 Outstanding Female Entrepreneur for the region, for the manner in which she articulated her ideas, collaborated, her commitment to learning and her business acumen.
These outstanding students will share in $10,000 worth of technology prizes and receive an all-expenses-paid Telstra Experience in Sydney where they will tour the Telstra Experience Centre to receive further mentoring from senior Telstra technology leaders and visit a start-up incubator.
Chancellor State College teams Robokings Beta and RoboRoyals took out second and third place respectively and the SafeTick team from Saint Andrew's Anglican College won the Telstra In-Store People's Choice Award.
More than 20 finalists across Years 10, 11 and 12 on the Sunshine Coast got together with their school mates to create an application or invention as part of this year's Mayor's Telstra Innovation Awards.
As part of the program, the students were mentored by some of the sharpest technology minds and entrepreneurs in our region to help the students develop and refine their ideas.
The competition, which is delivered by Sunshine Coast Council in partnership with Telstra through the region's innovation collaboration called SCRIPT, brings creative ideas to life, while connecting students with industry mentors to develop their entrepreneurial thinking.
Mayor Mark Jamieson, who is part of the judging panel and presented the awards, said all entrants in the awards program were outstanding and their innovative ideas reflect the vision for the Sunshine Coast to be Australia's most sustainable region: healthy, smart, creative.
"What never ceases to both amaze and delight me is that we have no shortage of creative young minds here on the Sunshine Coast coming through this program," Mayor Jamieson said.
"The ideas and inventions that were pitched at the Awards ceremony were certainly inspirational.
"The young people involved in this competition are the very demonstration of that vision in action and show that we are on the right track in encouraging opportunities to succeed in the 21st century.
"Our Sunshine Coast was recently recognised as one of the Top7 Global Intelligent Communities – in fact we are the only location in the southern hemisphere to make this list, and it is programs like the Mayor's Telstra Innovation Awards that provide the practical demonstration of why our Sunshine Coast is a Global Intelligent Community."
"On behalf of council, I want to congratulate all of the finalists because in my view, every one of them has shown the endless possibilities that can open up by thinking creatively, being innovative and having a determination to succeed."
Telstra Regional General Manager May Boisen said Telstra is proud to be working again with Mayor Jamieson and Sunshine Coast Council to bring these awards to life for the fourth year running.
"The Sunshine Coast is fast becoming a hotbed of innovation and entrepreneurialism, which is why it's so critical for government and business to work together with the community to foster young talent and challenge young people to think outside the box," Ms Boisen said.
"These awards encourage students to explore and develop their passion for new technology and gives them hands-on experience, while working with professional mentors, to help them achieve their goals. Congratulations to this year's winners and finalists and all the best for the future."
Further information available at: www.sunshinecoast.qld.gov.au/techawards
Back to all news