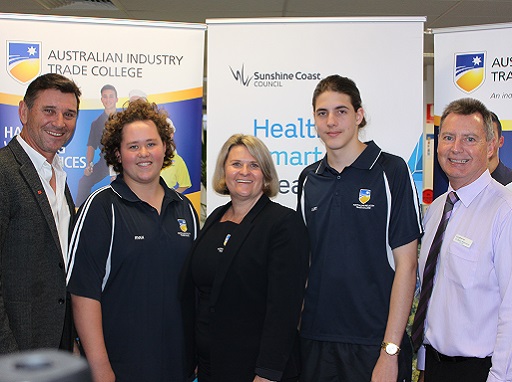 Sunshine Coast students can now kickstart their career in year 10, with the opening of the region's first trade and industry-focused independent senior school, the Australian Industry Trade College (AITC) Sunshine Coast campus. Local industry and community leaders drove the introduction of the school which aims to give Year 10, 11 and 12 students the opportunity to complete their Queensland Certificate of Education (QCE) while starting a school-based apprenticeship in the trade of their choice.
The AITC Sunshine Coast campus has opened with a small Year 10 cohort of 47 students and expects to grow to 200-250 students over the next four years, adding Year 11 in 2019, and Year 12 in 2020.  AITC CEO Mark Hands said the college gave students a jumpstart into the construction industry by offering the combination of nationally recognised trade courses and local industry connections that would hopefully lead to employment on the Sunshine Coast.
"Students who want to work in a trade won't need to leave school early in order to do so. They'll be able to complete their formal high schooling whilst also gaining qualifications in everything from electrical engineering and automotive mechanics, right through to hairdressing, plumbing and tiling, just to name a few," Mr Hands said.
"In addition to their trade training, all young people at the AITC study core English and Mathematics subjects as well as certificates in Information Technology, Work and Life Skills and Business, with a personal trainer also onsite to deliver a health and fitness program."
"In working with industry leaders here on the Sunshine Coast, we've been able to develop a program that will provide quality training and create well-skilled and well-rounded young people who will benefit a number of industries on the Sunshine Coast and beyond."
The college already has two established campuses in Brisbane and the Gold Coast, with both schools achieving excellent results.
"On graduating at the end of Year 12, over 92% of all students are converted into full-time apprenticeships," Mr Hands said.
"We have around 98% of all students obtain their QCE, and to date, more than 1500 students have been successfully placed into apprenticeships and traineeships.
"The results prove that selecting this type of pathway outside of traditional schooling can be a valuable choice for many students – and their parents – that sets them up for a successful career."
For more information about AITC's Sunshine Coast campus, please visit www.aitc.qld.edu.au or call 07 5353 5268.
Back to all news