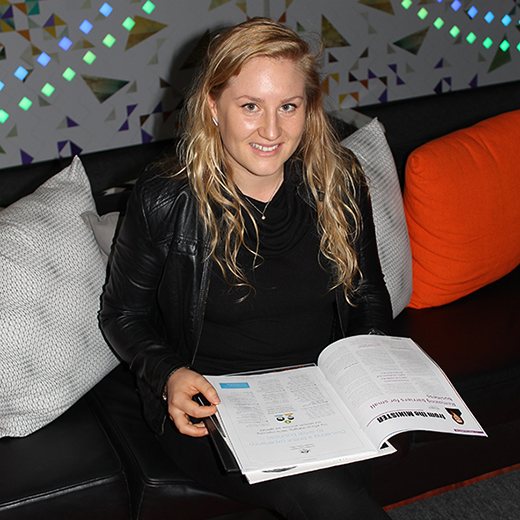 A former Swedish backpacker is using her University of the Sunshine Coast degree to boost Australia's tourism industry through her work at a business based at USC's Innovation Centre at Sippy Downs.
Bachelor of Business graduate Mira El Kott Helander, 24, has gained employment as a marketing and coordination assistant for Massey Online Management, a company that specialises in online marketing and management support for holiday parks.
Mira, who comes from Östersund in central Sweden, achieved a grade point average of 6.75 out of a possible 7 in her degree and was awarded a Faculty medal at her graduation in April.
After arriving in Australia in 2011, Mira spent a year travelling around Australia, working in jobs as diverse as fundraising, bartending and leading horse-riding tours, before enrolling at USC and settling on the Sunshine Coast.
Her work with Massey Online Management includes being responsible for social media management for clients on channels such as Facebook, Instagram and Google.
"I also handle the online reputation of our clients by responding to reviews on sites like TripAdvisor," she said.
"A typical day for me could be anything from writing copy for a new website, to sending out quarterly newsletters, to planning the online marketing of events that the parks are organising."
Mira said receiving a Faculty medal from USC had made her graduation ceremony even more special.
"It was a nice surprise," she said. "I knew I had done pretty well but I had never heard about the Faculty medal before. It was nice to tell my parents about it.
"The best part about studying at USC was having lecturers and tutors with so much relevant professional experience. I always felt welcome at USC and there are so many support services available."
Originally published by the University of the Sunshine Coast here.
Back to all news