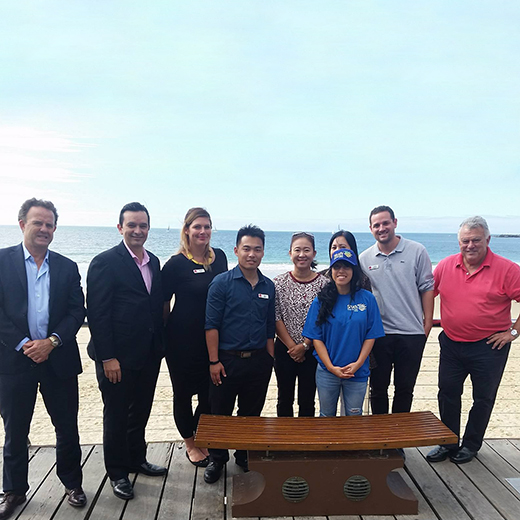 TAFE Queensland In Country Managers living in Sweden, China, Latin America, Vietnam and Thailand today visited TAFE Queensland East Coast's Mooloolaba campus and its surrounding beaches to uncover why the Sunshine Coast is the ultimate study destination.
TAFE Queensland East Coast General Manager Dr Paul Wilson said international students contribute greatly to the Sunshine Coast's local community and economy.
"TAFE Queensland East Coast's international students inject around $5.8million into the Sunshine Coast economy each year," Dr Wilson said.
"In Country Managers are based overseas and are our student recruitment agents, persuading international students to undertake their further education on the Sunshine Coast. They speak at schools, attend expos, fairs and information days and with liaise with third party agents from around the world on our behalf.
"Their ability to encourage international students to relocate and study abroad is vital to the Sunshine Coast's economy," he said.
Sunshine Coast Mayor Mark Jamieson acknowledged the important economic contribution of the Education industry and said there's no better place to live and study than the Sunshine Coast.
"Education made a value-added contribution of almost $700million to our regional economy in 2014-15 and around 10,000 locals are employed in this sector," Mayor Jamieson said.
"Our region attracts up to 3,000 international students each year who study at TAFE Queensland East Coast, the University of Sunshine Coast, Lexus English and local schools. Having these international students living here delivers more than $60million a year to our local economy.
"So any opportunity to grow the education sector and increase international student numbers is going to be very positive for our region and that's what we're working to achieve through the Study Sunshine Coast Campaign.
"This initiative aims to increase international student numbers by 20% over the next five years. It also aims to attract more interstate students to the Sunshine Coast and retain more local people who are currently leaving our region to pursue higher education opportunities.
"We believe there is no better place to live and study and then live and work and our game-changer projects like the Sunshine Coast University Hospital, the Maroochydore CBD, the expansion of Sunshine Coast Airport and the growing numbers of international companies who are basing themselves here will create a new economy on the Sunshine Coast and deliver outstanding career pathways and choices for local, national and international students," he said.
Back to all news