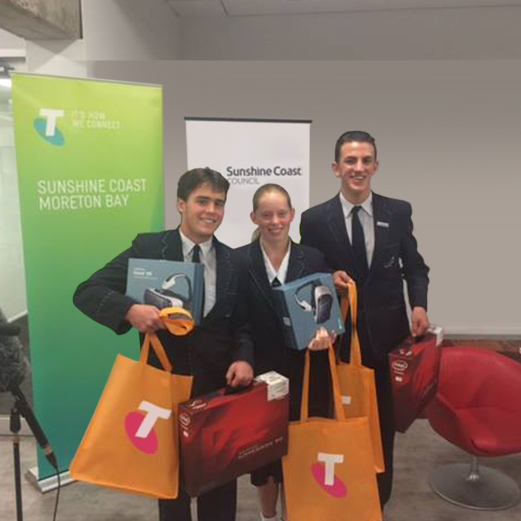 An app to help school students monitor and manage stress has taken top honours in the Mayor's Telstra Technology Awards.
The 'EJ2' – Estress mobile application, developed by Unity College Year 11 students Jordan Josic, John Berriman and Ellen Massey, got the nod from judges in the inaugural competition that aims to promote, foster and grow innovation and entrepreneurship on the Sunshine Coast.
The winning students took home three Samsung Galaxy S6 Edge 64GB phones for their efforts, while their school was awarded two Asus 15" laptop computers, two Samsung VR headsets and a 60" Smart TV.  The competition included over $20,000 in prizes.
Winning team member Jordan Josic said taking part in the Mayor's Telstra Technology Awards was a life-changing experience for more than just the great prizes.
"We're very excited  to win, it was such a great opportunity for us to work with business mentors and people in the area of technology. It gave us a chance to show our peers that anything is possible and show that even at our age we can come up with a great idea for business," he said.
"We hope to develop the web app as part of a pilot program at our school Unity College and then we hope to get feedback and refine the app so we can create it and send it out to other schools."
Fellow Unity College student team member Ellen Massey said the competition enabled young people to express their creativity and help shape our future.
"It's definitely a changing world and just this competition is a great example of hour we're going to implement difference ideas into the future. It's not just about the winning, you can get some great contacts and network with different companies by taking part in these awards, it's just a great experience," she said.
Twenty-four students from eight different schools across the Sunshine Coast participated in the Mayor's Telstra Technology Awards that were staged in our region for the first time in 2016.
All participants embarked on a four week entrepreneurial mentoring program run by Spark Bureau to refine their ideas with the help of some of the Sunshine Coast's sharpest minds with technology start-up business experience.
Mayor Mark Jamieson said council was very pleased to partner with Telstra to bring the competition to our region for the first time to show our region's bright  young sparks future career options and pathways in the technology industry.
"This was about putting a challenge to local students to come up with the next big idea utilising technology," Mayor Jamieson said.
"I've got to say I'm very impressed by all of the projects that have been put forward, all of the prototypes that have been proposed and it's clear that we have many young people on the Sunshine Coast who are very focused on helping to develop a smart and healthy future.
"Many of the jobs of the future haven't been created yet and they'll be created by these bright young minds who we need to encourage to stay and invest their talent in the sunshine coast so having these sorts of opportunities for them provide real life experiences at building new services or products and I think it's been an outstanding success.
"We want to build a desire and focus to be the startup capital of Australia we can be an international communications centre and when you think of the investment that's going into the health and wellbeing sector in particular, there's a tremendous opportunity for future job opportunities but also for future job opportunities and also smart applications and the utilisation of technology generally as we continue to be Australia's healthiest region."
"I thank Telstra and all the other sponsors along with the Spark Bureau and particularly council's economic development staff who've been very supportive."
Telstra Area General Manager May Boisen said the Mayor's Telstra Technology Awards had a bright future on the Coast.
"The Sunshine Coast is a great region that's fostering its talent and really looking to show young people new ways of thinking. The final presentations and submissions from our students highlighted the great talent that exists here in the technology industry and we're excited to have brought these awards to this region and look forward to doing so again next year," she said.
Mayor's Telstra Technology Awards Final placings and finalist's entry details:
1st – Unity College – EJ2, Estress mobile application (Estress App: Records an emotional state through colour indication from one word answers. Maps stress levels during the day. Data can be used by health care professionals for monitoring and analysing stress levels.
2nd – Siena Catholic College – 'Wired in Technologies' (Sunshine Coast Youth Hub: A joint website and smartphone application that allows the youth of the Sunshine Coast to connect with their local community and employers. The application aims to combine tertiary education, local social events and the workplace all in one easily accessible location. The Hub will feature five sections encompassed in a home page: Workplace, Education, Connect, Social and Forum).
3rd – Pacific Lutheran College – 'Musical Maestros team' (Uses light sensor to trigger a sound when stepping on different steps on a staircase. Encourages people to use steps rather than escalators and elevators and could also be used as a children's toy when installing the musical steps at home to promote creativity and exercise).
Originally published by Sunshine Coast Council in May 2016 here.
Back to all news