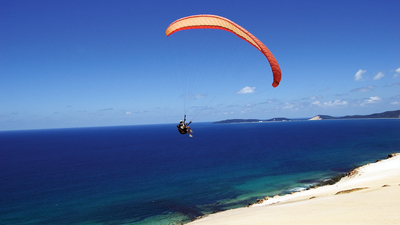 Georgia Harle, Study Sunshine Coast student ambassador, currently studying at Pacific Lutheran College shares her tips as a Sunshine Coast local.
What is your favourite outdoor activity on the Sunshine Coast?
Going to one of the amazing beaches on the Sunshine Coast!
Top travel tip for the Sunshine Coast
Visit the fairy pools on the Noosa National Park walk.
How do you spend your free time?
Spending time with friends, often at the movies or at the beach.
If you could choose – Beach or Hinterland?
Beach every time!
Experience at the top of your Sunshine Coast 'to do' list?
Sky diving solo.
Most surprising thing you have discovered about the Sunshine Coast?
The region provides the perfect mix between the city, coast and hinterland.
What has been the best thing about being a Study Sunshine Coast Ambassador?
Being able to promote the best destination in the world!
What will you miss most about the Sunshine Coast?
Laid back lifestyle, friends and of course the beach.
In ten years you will be doing?
I will have just finished my medical degree and hopefully be a surgeon and maybe even have a family too.
Back to all news