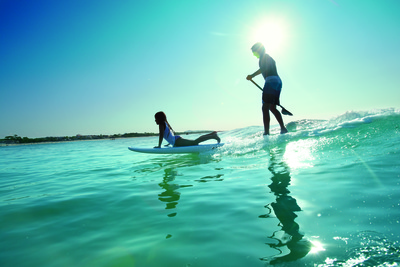 We caught up with Study Sunshine Coast student ambassador, Jean (Jeddy) Degollacion and asked her about why she loves living and studying on the Sunshine Coast.
What is your favourite outdoor activity on the Sunshine Coast?                                                                                                                                                                                                 
The Sunshine Coast is made up of beautiful, small towns. Thus, exploring these towns is my favourite activity. We often choose the "road less travelled", and just experience the laid-back lifestyle of the Sunshine Coast. However, lately I got myself into Stand-Up Paddle Boarding, and I absolutely love it. This is pretty much my favourite activity at the moment.
What is your top travel tip for the Sunshine Coast?
Get lost and allow yourself to be overwhelmed with the charming beaches in Mooloolaba, Alexandra Headland, and Coolum. Or tickle your imagination and travel the world in one day by visiting the vibrant Eumundi Markets. Or simply, heal your soul by watching the magical sunset in Noosa. How could I forget the lovely Mt. Coolum and Mt. Ngungun or perhaps some kayaking, exploring the Maroochy River?
How do you spend your free time?
I spend most of my free time at the beach, as well as discovering the weekly markets on the Sunshine Coast.
If you could choose – Beach or Hinterland?
This is hard, as I love the beaches. But the mystical beauty of Sunshine Coast Hinterland has also captured me, so both are the best!
Experience at the top of your Sunshine Coast 'to do' list?
If you are an international student, get your licence as cars are very cheap here in Australia, especially on the Sunshine Coast, so do a lot of road trips! I swear, it's worth it! Go kayaking with friends, or stand-up paddle boarding. If you don't know how to surf, get some lessons. Pretty much, all these activities are very affordable! If not, immerse yourself in the Sunshine Coast culture, meet the locals, as they are more than happy to give you a one-of-a-kind experience on the Coast!
What has been the best thing about being a Study Sunshine Coast Ambassador?
It is being able to show to my friends from around the world that Sunshine Coast is not just a perfect place for its beaches and hinterland. It's the people that makes it the best place to study. Aside from this, these forums and conferences that I have attended have given me opportunities to meet like-minded people and build long-lasting friendships with students from around Australia.
 What will you miss most about the Sunshine Coast?
One day, I was at the beach enjoying the sun, sand, and my drink. A thought crossed my mind, that one day, I have to say goodbye to this beautiful life-style and find a job in the city, and I felt sad. The Sunshine Coast is a perfect place for me. I can go for a jog from the Alexandra Headland to Mooloolaba Spit, and take a quick dip in the sea. After that, I'd go to Crumbed or Naked for my delicious Beef wrap-treat and witness the beautiful sunset near the Alexandra Headland. There is so much about this place to miss. So, I was really happy when I was offered a job at USC, to work with the USC International team. This means, I can stay a little bit longer.
In ten years, you will be doing?
I see myself doing marketing, I don't know where I will be in 10 years, but I am hoping to stay on the Sunshine Coast still. Though, short term, I want to continue my study, and do my PhD (crossing my fingers) at USC, and go from there.
Jean (Jeddy) Degollacion
University of the Sunshine Coast Student and Study Sunshine Coast Student Ambassador
Back to all news