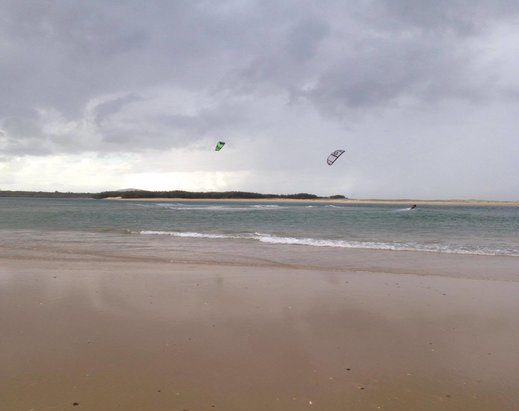 Roughly 5 years ago I picked up kitesurfing for the first time, back in The Netherlands. I tried it out and loved it, even though I wasn't going very well I must admit. I bought all the gear I needed to go out alone after I had some lessons, but never really pushed through with it, so after just one season I sold all my gear. But the thought never really left the back of my mind! I told myself that one day I'll give myself a second chance at it.
Surely, about a month ago while living on the Sunshine Coast, I was able to rake enough cash together to buy myself another lesson and all the gear I needed. Unfortunately it's not really the season for kitesurfing at the moment on the Coast and the wind has not been great to go out so I haven't been out as much as I would have liked to. On the 13th of April however, the conditions were perfect so I hit the water!
So there I went, in the Maroochy river mouth at Cotton Tree. I did struggled a little bit with setting up all the gear — it had been a while, after all — but luckily my fellow Study Sunshine Coast Student Ambassador Elsie was there to help me out where I needed as she was interested to see what kite surfing was like. And there was no doubting I would probably need help later too.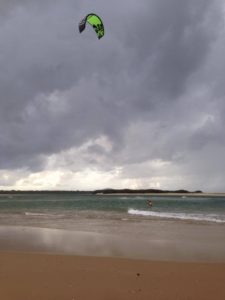 So everything was cool at first, sans the slight uncertainty and mistrust in my capabilities to pull this off. I went in the water — which was surprisingly warm — and managed to pull off a couple of rides, albeit short. But then disaster struck (sort off). I fell over my board trying to turn around. So my kite was pulling me in one direction, and the tide was pulling my board in the other direction. I was trying to swim/drag myself towards my board, but all was in vain. I really wasn't getting any closer.
As I was slowly losing hope of ever seeing my board ever again, after only having used it once for not even an hour, my faithful helper appeared in the corner of my eye, approaching the shoreline in a quicker version of Baywatch running style. There went Elsie, throwing herself against the waves, filled with altruistic motive, regardless of potential self-harm, in order to retrieve my board for me, which was at this point probably about 100 meters out from the shore. I love how my fellow Student Ambassadors have my back!
But even Elsie could not rescue my board from its certain, inevitable demise.
Blessed be that man that could though. I do not remember his name, but this unnamed hero and fellow kite surfer (although better than me), managed to grab my board and bring it back to shore for me. It continues to amaze me how helpful and friendly the people on the Sunshine Coast are!
An interesting first kitesurfing session for on the Sunshine Coast for sure, but it's the only way I'll learn; keep trying! Moral of the story: don't go out alone, and the kite surfing community of the Sunshine Coast looks like a good bunch of people who I am keen to get to know!
by Koen Ruijgrok – Study Sunshine Coast Student Ambassador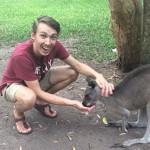 Back to all news