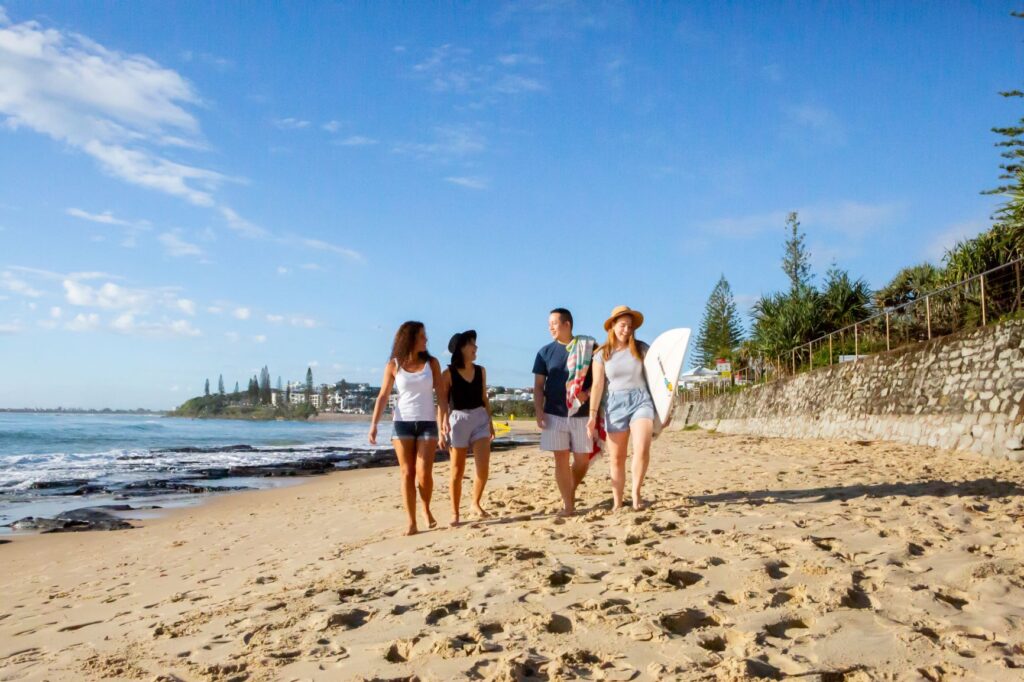 2019 Study Sunshine Coast Student Ambassador Jasmine Mitchell is a young woman with a bright future ahead. Currently enrolled in a Diploma of Nursing at CQUniversity in Noosa, Jasmine hopes to go on to complete a Bachelor degree so she can become a Registered Nurse and maybe even become a doctor down the track.  She has a particular interest in helping young children.
Jasmine gives credit to a family friend who helped her find her direction and to choose what to study. "She spent time with me and helped me to see what my strengths were," says Jasmine. "I really love working with sick children and want to be able to help them get better."
Practical work is a significant component of the Diploma and Jasmine is very much looking forward to getting some real-world experience. Students must complete three different placements which include a month in an aged care facility, two weeks in the community helping people in their homes and five weeks in a hospital.
Sunshine Coast University Hospital (SCUH) has a strong commitment to teaching and research and works in conjunction with the Sunshine Coast Health Institute (SCHI) playing a vital role in training the next generation of staff. It fosters innovation and a culture of ongoing clinical audit as well as redesign and clinical practice improvement to support excellence in the delivery of care.
To supplement her studies Jasmine has several part time jobs including a morning job where she helps families with disabilities such as Autism and ADHD get their children organised and ready for school. She found the work through a friend who has a business called Munchkin Sitters. She also works 15 hours a week as a permanent part-time cleaner at a primary school.
Jasmine moved to the Sunshine Coast from Christchurch in New Zealand when she was 12 years old. "We came for a holiday after the earthquakes and never went back," says Jasmine. "I guess the weather was too good! I think it suited our active family.
"Keeping fit is important to me. I love going to the gym and I help out at a lot of the community sporting events including the Ironman and the Mooloolaba Triathlon."
She also enjoys the trails around Noosa. The coast walk in the Noosa National Park and the Tanglewood Track are regular haunts but thanks to being involved in the Student Ambassador Program she is discovering other beautiful parts of the Sunshine Coast. A recent discovery has been the Buderim Forest Waterfall.
The waterfall is in a 45-hectare secluded oasis, hidden on the northern side of Buderim. The area was purchased many years ago by  Sunshine Coast Council as a reserve for all of Buderim. Amazingly much of the creek actually belongs to private land owners as once did the waterfall.  The falls were a favourite recreational place for the region's indigenous people and have been unofficially named "Serenity Falls" but they are widely known as the Buderim Falls.
Thanks to the Ambassador Program Jasmine also participated in a Cultural Kayak Land Tour hosted by local Kabi Kabi elders. The company, Biral Tours is owned and operated by Sovereign Tribal Owner, Tais K'Reala Randanpi and offers a unique and authentic experience throughout the sacred land and waterways of the Sunshine Coast.
A keen cook, Jasmine loves the availability of fresh local produce on the Sunshine Coast. She is a regular shopper at the Noosa Farmers Markets and likes to prepare all her meals at home.
Jasmine says that the best thing about being a part of the Ambassador Program has been meeting all the International students. She says that she finds their willingness to come and try living in a new country inspiring and it has given her confidence that she may be able to do that one day too.
Back to all news