Hi all,
My name is Blade Manders, one of the Study Sunshine Coast student ambassadors. This is just a little story about why I've chosen to live, study and work on the Sunshine Coast.
Being born on the Sunshine Coast, I always took for granted the beautiful sights that surrounded me daily. When I graduated from school, I packed my bags and moved to Brisbane to begin my new life, but realised that something was missing. The picture in this post is at my favourite spot, Mooloolaba beach on the Sunshine Coast, and this is one of the many reasons that I decided that the Sunshine Coast will always be home.
The Sunshine Coast offers an abundance of activities, from surfing at Mooloolaba Beach, to climbing Mount Coolum and taking in a colossal view of the Sunshine Coast.
The University of the Sunshine Coast, TAFE Queensland and other organisations offer incredible study and learning opportunities for everyone, whether you are a domestic or international student, offering programs for each area of interest. Being a nursing student at the University, I was surprised, humbled and extremely happy with the teaching staff and facilities the University offers, particularly for nursing and science students with immersive simulation labs, mannequins which allow nursing and allied health students to get the necessary experience pre-placement, but also to gain valuable skills.
The sunny Sunshine Coast is also an incredible place to work, with an endless variety of opportunity for all. Whether you are undertaking an internship with the University, working full-time, part-time or casually, there is something for you! As a person passionate about healthcare, I was also lucky enough to secure a position with the Sunshine Coast Hospital and Health Service (SCHHS), which has already proven to give me valuable skills which I will be able to take with me for the remainder of my Nursing Degree and beyond.
Most of all, the Sunshine Coast is a place where you will make extremely precious memories. Whether you come here to Study, Work or Live (maybe even a little of everything), you're going to hold those memories close to your heart forever. Some of the most incredible people I know live and breathe the Sunshine Coast, just like I do, and I am sure you're going to enjoy yourself here just as much as I do!
One final point, if you're thinking about making Australia your next destination, add the Sunshine Coast to your itinerary. Explore the beaches, climb our mountains, take snapchats whilst paddling out in the Maroochy river, eat food at some of our favourite restaurants and even dabble in the nightlife offered in Ocean Street (or perhaps a cheeky game of bowling at STRIKE)!
Whatever you want to do, the Sunshine Coast can accommodate, and you will not regret it!
Maybe I will see you soon!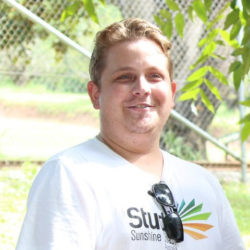 Blade Manders
University of the Sunshine Coast student and Study Sunshine Coast Student Ambassador
Back to all news