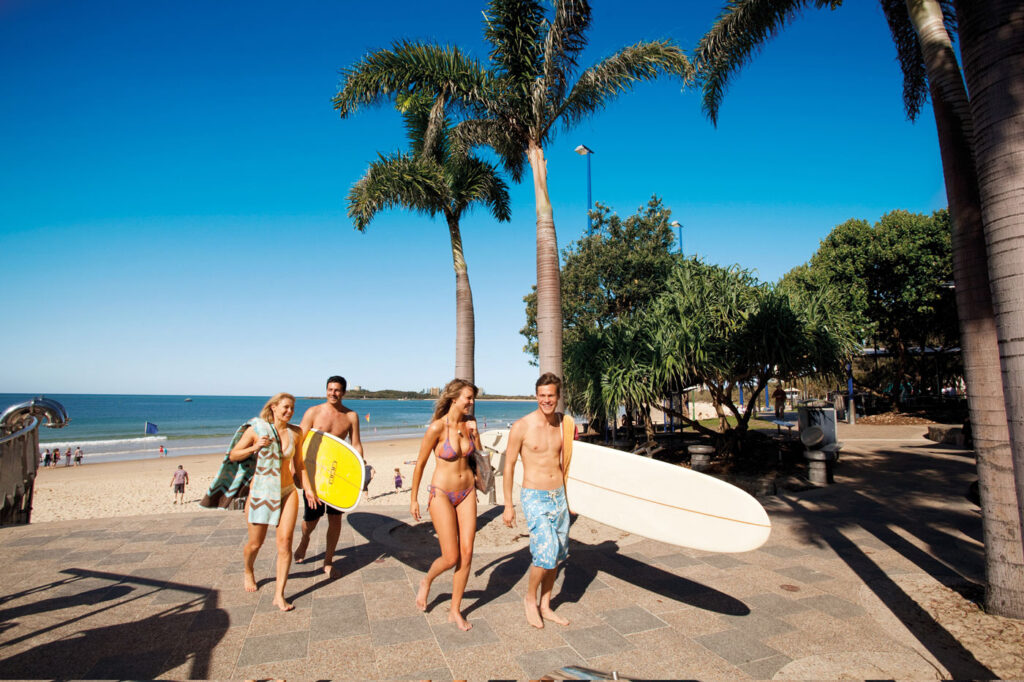 It can sometimes be hard to imagine what living, working and studying in a different country could be like, especially if you have never studied abroad before.To get a better picture of what life abroad is like, we spoke to Carolina Loureiro Faria Da Silva, a Brazilian student currently studying Commercial Cookery at TAFE Queensland on Australia's Sunshine Coast.
Originally from Rio de Janeiro, Brazil, Carolina was first charmed by the amazing Australian coastline in 2014 during a trip through South East Asia when she had a few days spare to get to know the country. Carolina was especially impressed by the Sunshine Coast's natural beauty, strong infrastructure and job opportunities. Choosing Australia also made it easier for her to work while on a student visa, compared to other countries
Carolina has now spent 18 months living a coastal lifestyle on the Sunshine Coast, spending the first three months studying English at Lexis English in Noosa followed by a Certificate lV in Commercial Cookery and Diploma in Hospitality and Management from TAFE Queensland at the Mooloolaba campus. She has also worked during the vast majority of that time and has come to know the Sunshine Coast very well.
Coming from a big city like Rio de Janeiro, Carolina was familiar with living in a place with natural beauty and excellent beaches, yet she felt the Sunshine Coast is "very different because the Sunshine Coast has a quieter lifestyle, without the hustle and bustle of a big city." This slower, more peaceful lifestyle change attracted her to the Sunshine Coast in the first place: "I was looking for a city to study in that would bring me a healthier and more peaceful lifestyle."
Even applying to study on the Sunshine Coast was a simple process for Carolina: "To be honest I had no difficulties during my application process. My agency in Brazil helped me a lot and despite needing to prepare several documents, my visa was approved in two days."
Carolina enjoys the calm lifestyle and safe environment, being able to walk only 5 minutes to the beaches whenever she pleases and enjoying the astounding weather too. "There is nothing better than living in such a place."
As a student, Carolina feels that she is learning everyday. Not just in her classes, but from the community around her. "I always had the dream of studying in another country. The experience, both professional and personal, of living in Australia made me see the world with different eyes.
One of the common everyday challenges for international students is indeed the language. Carolina studied English in Brazil for six years but considered her English "intermediate", so came to Australia to improve her English and found that  it wasn't a challenge adapting to Australian culture.
What makes living on the Sunshine Coast easier, especially when it comes to language, is how multicultural the area is, with people from all around the world here.. It's incredible. I work with people of seven different nationalities, which is great!" And with her classmates, who are from a variety of destinations around the world, she gets to share with them an appreciation for Australian culture, as well as her own past experiences, while respecting and learning their backgrounds too.
Her new English skills have led her to appreciate more than just Australia too. "I have always enjoyed how traveling and improving my English makes me enjoy the other places I visit. I can have more contact with the local culture and meet and talk with people from other countries. Another benefit is in my career. I graduated as a nutritionist 10 years ago and I've been working in hospitality for 12 years. I am in love with natural foods and all the latest studies, discussions and articles in relation to gastronomy, nutrition and hospitality are written in English. By improving my English, I can study and specialise more in my profession."
In between attending classes, enjoying the peaceful lifestyle and multicultural society, Carolina works in hospitality. Her first job was cooking in a restaurant, to which she attributes a marked improvement in her English language skills. Her job now relates closely to her course so she is improving in so many ways all at once, "'I'm getting what I planned to do in Australia: improve my English, study cookery and hospitality, and work in the area too. Of course there are many difficulties, but if you have a goal, a dream, focus on it. You will achieve it."
Does she have any more advice for students wishing to move to the beautiful Sunshine Coast of Australia? "Believe in your dream. Absolutely everything will make you grow and become a better person and a better professional. According to Carolina, "there is nothing better than living in such a place"
Back to all news