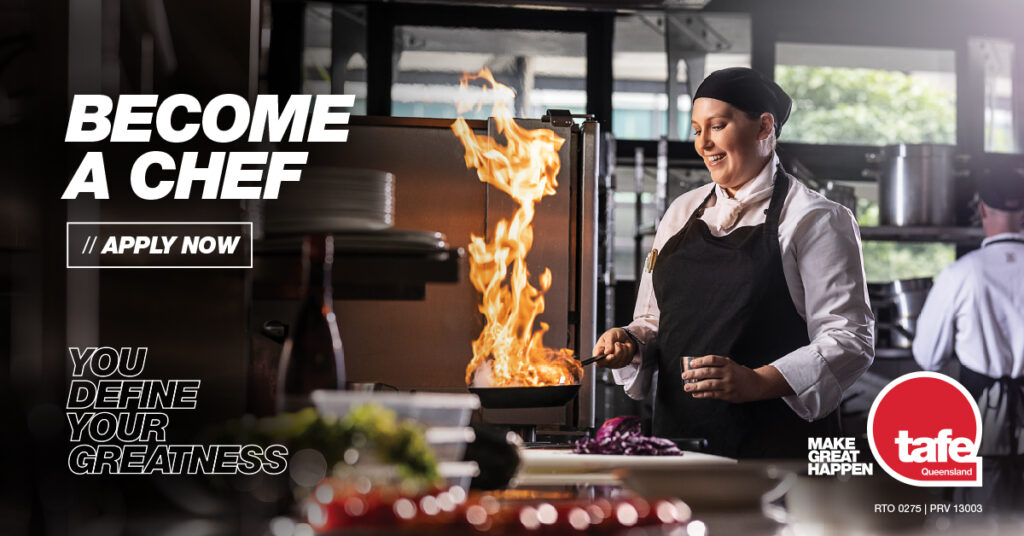 Looking for a new career path or keen to start your career training today? And you'd like to fast track your apprenticeship so you can start in the workforce as soon as possible? Sounds like you? Then read on. Become a chef sooner with an accelerated cookery apprenticeship in only two years allowing graduates to become fully qualified and enter the workforce in a reduced amount of time.
Qualified cooks are in high demand in the Queensland tourism sector, and this course will provide a strong foundation for graduates to build their future careers.
This accelerated learning and training opportunity is offered by TAFE Queensland in partnership with the Department of Employment, Small Business and Training, and the Queensland Tourism Industry Council is offering a fully funded, intensive Certificate III in Commercial Cookery (SIT30816) to eligible candidates*.
Study Sunshine Coast is in full support of this education and training initiative. "Over the past few years in particular we have seen a strong employment need on the Sunshine Coast for qualified chefs. This accelerated learning opportunity offered from TAFE Queensland is a fantastic pathway for local and interstate students to gain a qualification and join the workforce in a two year period.
"The Certificate III in Commercial Cookery is also a fantastic platform for students to not only work locally and in Australia, also work on the global stage," Marina Murray from Study Sunshine Coast said.
Delivered over 40 weeks, this program provides you with skills and knowledge to move into employment as a stage 2 apprentice, reducing the total time needed to complete the Certificate III in Commercial Cookery (SIT30816). This program is fully subsidised by the Department of Employment, Small Business and Training (DESBT) (eligibility criteria applies).
Course details:
Year 1 – Students will undertake the Certificate II in Kitchen Operations SIT20416 in a simulated work environment at a TAFE Queensland campus. Training will be undertaken over 40 weeks, 3 days per week
minimum, with students participating in work experience for four weeks during this time.
Year 2 – On successful completion of the above qualification, students can then progress into a Certificate III in Commercial Cookery SIT30816 apprenticeship with an industry partner as an apprentice.
Benefits:
Training is fully funded by DESBT*
Combines practical experience in TAFE Queensland's live training restaurants with industry work experience
All equipment will be provided, including knives and uniforms
TAFE Queensland will support students to seek employment for Year 2 to undertake their apprenticeship in industry
*Eligibility criteria applies

FIND OUT MORE AND REGISTER YOUR INTEREST TODAY
Back to all news