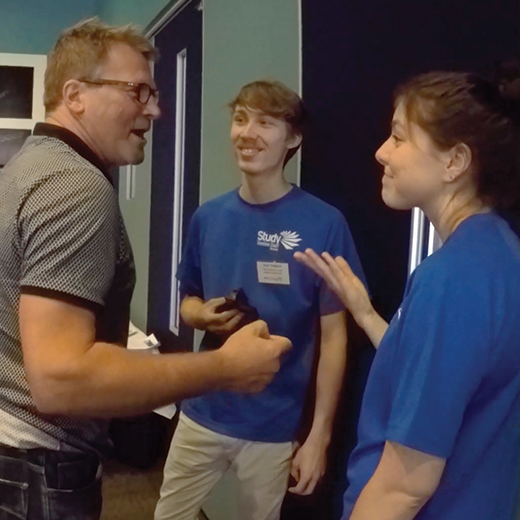 Sunshine Coast businesses in attendance at the recent launch of Study Sunshine Coast were presented with the significant opportunities available to them from an increasing student population across the Sunshine Coast.
Study Sunshine Coast is an initiative of Sunshine Coast Council and Education Sunshine Coast aimed at retaining and attracting more Australian, Mature and International students to the 73 schools, 2 universities and 400 occupational training organisations, including TAFE Queensland East Coast, currently operating on the Sunshine Coast.
Already Education and Training on the Sunshine Coast has a current value of $696.9 million to the local economy, with a great opportunity here and now to increase this value through retaining and attracting more students to choose the Sunshine Coast as their study destination.
This significant and exciting opportunity for growth and increased economic value was highlighted at the official launch of Study Sunshine Coast held on 20 April 2016 at the TAFE Queensland East Coast Mooloolaba Campus.
The Study Sunshine Coast campaign was welcomed and launched by Deputy Mayor Cr Tim Dwyer, Sunshine Coast Council, Education Sunshine Coast and the recently appointed Study Sunshine Coast Student Ambassadors.
Deputy Mayor Cr Tim Dwyer said that Education and Research has been identified as one of the seven high-value industries in our Regional Economic Development Strategy which Sunshine Coast businesses can tap into.
"Study Sunshine Coast provides our region with a wonderful opportunity to reach out to local, national and international students and promote the outstanding education, lifestyle, work and career opportunities, available to them in a safe, natural and friendly environment," said Cr Dwyer.
Sunshine Coast businesses from various industry sectors attended the launch to learn how education can contribute directly to their businesses economic growth and exposure within the student market locally, nationally and internationally.
Ferre De Deyne, owner of the Big Kart Track, said he was thrilled and excited that Sunshine Coast Council were taking active steps towards retaining and attracting students to the region which he believes his business can benefit from.
"Study Sunshine Coast gives my business a great opportunity to educate Sunshine Coast students about the art of business, tourism and hospitality and provide possible job opportunities while they are here," said Mr De Deyne.
Mr De Deyne also said the exposure that Study Sunshine Coast can provide to local businesses within the student market through the Study Sunshine Coast website portal (www.studysunshinecoast.com.au) and social media was something he is very optimistic about.
"Study Sunshine Coast is a great initiative to attract more young people to the Sunshine Coast and create opportunities for them to stay on the Coast after study," said Mr De Deyne.
As part of the Study Sunshine Coast campaign, nine international and domestic students who are currently studying at the University of the Sunshine Coast and TAFE Queensland East Coast will act as ambassadors and promote the region as a study destination via their social media networks.
Study Sunshine Coast Student Ambassador Aileen Moore, who is studying a Dual Diploma Events/Travel and Tourism at TAFE Queensland East Coast, said she is looking forward to networking with local tourism and event businesses to gain experience and explore career pathways here on the Sunshine Coast.
"The opportunity for local businesses and students to work together to not only promote business to other students but also for businesses to help provide learning, work experience and career prospects to students studying on the Sunshine Coast is so exciting," said Ms Moore.
"It's a win-win situation that will help education and business on the Coast grow together."
The Study Sunshine Coast website portal includes integrated social media to drive engagement and visitation, together with planned campaign activities. Students and community members are also encouraged to help promote the campaign by using the hashtag #StudySunshineCoast in their social media posts about studying and living on the Coast.
For more information on Study Sunshine Coast please visit www.studysunshinecoast.com.au and follow the campaign on Facebook, Twitter, Instagram and YouTube.
Back to all news