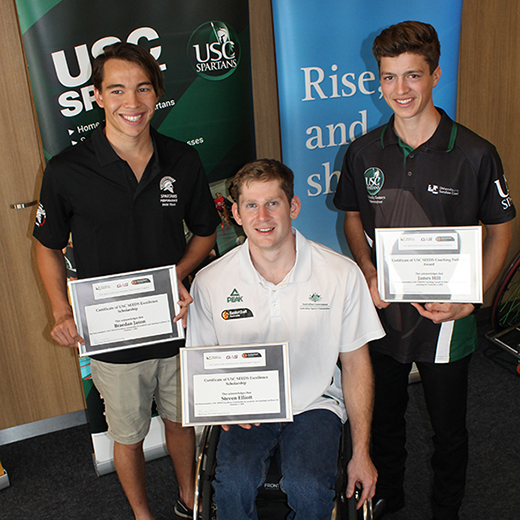 A talented wheelchair basketballer, a para-swimmer preparing for Rio and a dedicated coach have received the first para-athlete scholarships awarded by the University of the Sunshine Coast's groundbreaking Sports Elite and Education Dual Stream (SEEDS) program.
This program, which enables athletes with a disability to combine tertiary studies with high-performance sports training and coaching at USC, is the first dual para-sport and academic program to be offered by any Australian university.
Among the recipients was Paralympic swimmer and Bachelor of Journalism student Braedan Jason, who will soon contest four events at the Rio Paralympics.
Rising wheelchair basketball player Steven Elliot, who is enrolled in a Bachelor of Sport Studies, also gained a para-athlete scholarship, while wheelchair basketball coach and Education student James Hill received a coaching scholarship.
USC's SEEDS Program Manager Bridie Kean today presented the awards, valued at $2,500 a semester for the para-athlete scholarships and $500 a semester for the coaching scholarship.
Ms Kean, who captained Australia to a silver medal in wheelchair basketball at the 2012 London Games, said the three recipients were clearly committed to both academic and sporting success.
"As an athlete with a disability, I always knew the value of both sport and education in my life," she said.
"It is exciting to work towards expanding these opportunities to our future and current Paralympic athletes in Australia through the USC SEEDS stream."
Applications are now open for SEEDS stream scholarships beginning in Semester 1, 2017. More information can be found at www.usc.edu.au/seeds.
USC's partners in this program are Basketball Australia and the Queensland Academy of Sport Centre of Excellence for Applied Sport Science Research.
Originally published by the University of the Sunshine Coast here.
Back to all news