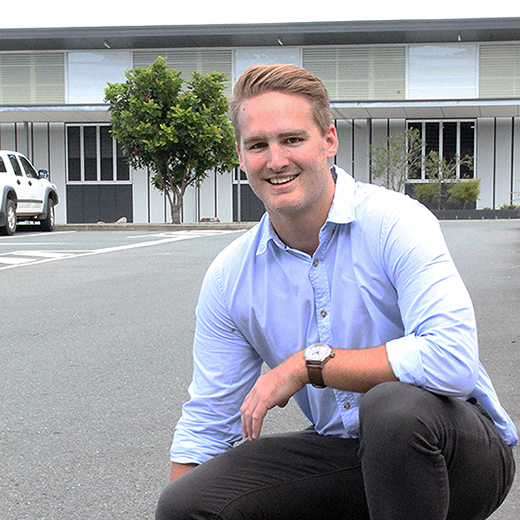 Final-year students from the University of the Sunshine Coast are spearheading a collaborative research project with industry and government partners to test an innovative new material for roadmaking.
The research project is a collaboration between USC's School of Science and Engineering, Brisbane City Council and international environmental engineering firm Consolid, which specialises in soil stabilisation methods.
USC Professor of Civil Engineering Construction John Yeaman said the long-term project would test a new polymeric material produced by Consolid Australia, intended for use as a moisture-inhibiting substrate (the layer directly below the surface) for roads built on blacksoil, which has a high water-holding capacity.
"A big problem in roadmaking is that moisture is drawn up from under the surface and then pools just under the bitumen," Professor Yeaman said. "Tree roots look for water, which is why we see roots breaking up through the road surface.
"If we can lay this new material as a substrate we can keep the blacksoil dry, which will keep the bitumen strong and prevent damage to the road surface."
Two USC Engineering students have worked on the project as part of their fourth-year Honours program, which requires students to design and manage a project that demonstrates their ability to translate theory into professional practice.
Sam Fitzpatrick, 28, who will graduate with a Bachelor of Engineering (Civil) (Honours) in April, completed a benchtop study and laboratory evaluation of the new material in 2015. Based on his results, Consolid Australia was able to move forward with a pilot study at Brisbane City Council's Bracalba Quarry site (west of Caboolture).
Current fourth-year student Hayden Curran, 23, will supervise the pilot study and evaluate the new material at the quarry site over a 90-day period. He will then produce a report into the product's feasibility.
Hayden, who also works as an undergraduate pavement engineer for a local firm, said the project provided an exciting opportunity for students to contribute to a potential innovation within the pavement engineering and road making field.
If successful, the product could be used as the substrate for a proposed autonomous truck road in Queensland's Hughenden region, which would provide a more efficient freight route to the south.
Article originally published on University of the Sunshine Coast website here – 26 April 2016.
Back to all news