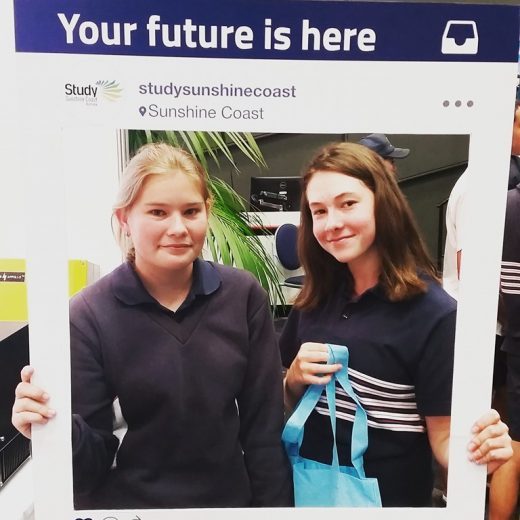 Close to 500 local school students discovered a world of career opportunities available to them on the Sunshine Coast at the Sunshine Coast Council and Study Sunshine Coast Future Careers+ Expo being held yesterday, 11th August 2016 at the Innovation Centre Sunshine Coast.
Sunshine Coast Council provided local secondary school students, currently in Years 9-12, a preview at the Future Careers+ Expo of the career and job opportunities that are set to be available to them on the Sunshine Coast in 2025.
Mayor Mark Jamieson said the Future Careers+ Expo painted a picture of what students can expect to see across the region in the next decade to enable them best to determine their study choices leading into tertiary education and occupational training after high school.
"The key objective of the Future Careers+ Expo is to ensure our young people are aware of the career opportunities that are will be available to them in the year 2025 and beyond within the high value industries as outlined in our Regional Economic Development Strategy (REDS) and to provide information on education pathways to help youngsters achieve relevant qualifications right here on the Sunshine Coast," Mayor Jamieson said.
"These seven high value industries have been identified under REDS as the key areas of future employment and economic strength on the Sunshine Coast. They complement the Sunshine Coast lifestyle and our natural advantages and will provide a platform for future quality employment opportunities for young people in our region, to reassure them that their future can be here."
The high-value industries identified in REDS include health and well-being; education and research; knowledge industries and professional services; tourism, sport and leisure; food and agribusiness; clean technologies; and aviation and aerospace.
Kawana Waters State College Principal Collin Allen-Waters said the Future Careers+ Expo was a great help to students entering their most important school years.
"Choosing the right elective subjects for the final years at school is a very big decision for secondary students, so to give them an insight into the possible future career opportunities here on the Sunshine Coast and the study pathways they'll need to get there is of tremendous value," he said.
Sunshine Coast Council and Study Sunshine Coast were amongst the exhibitors at the Future Careers+ Expo showcasing why choosing to study on the Sunshine Coast presents big opportunities for students leading into the future.
Study Sunshine Coast Student Ambassadors were also present throughout the event speaking to students about their own learning experiences and giving advice about studying in the region. Students were encouraged to approach the Student Ambassadors for a chat about career and study pathways as well as take some cool pictures with the Study Sunshine Coast Instagram frame!
Back to all news