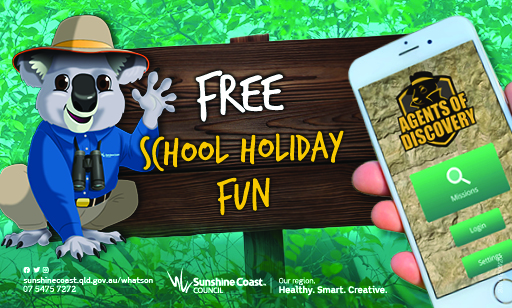 School holidays kick off this week, and Sunshine Coast Council, Sunshine Coast Libraries and the Caloundra Regional Gallery have some free activities to make the most of the beautiful spring weather.
Agents of Discovery is back!
Agents of Discovery is back these school holidays for your kids to enjoy. Agents of Discovery is an educational mobile gaming platform that uses augmented reality to get youth active. Head to your app store to download the free game and try new missions at Mary Cairncross Scenic Reserve or Maroochy Regional Bushland Botanic Garden. Check out the what's on guide on council's website to begin.
Try the ClimateWatch Trail at the Maroochy Wetlands Sanctuary
Become a citizen scientist at the Maroochy Wetlands Sanctuary and contribute to understanding how climate change is affecting our environment. To get started:
• Download the free ClimateWatch app
• Grab a ClimateWatch field guide highlighting the wetland's indicator species.
• Look for indicator species along your walk
• Using the app, take photos and notes seasonal behaviours
• Return your field guide for reuse.
Visit the ClimateWatch website for details.
Try the Nambour Soundtrail and go into the draw to win
Win a $100 voucher to the Events Centre just by taking the family on the Nambour Soundtrail heritage walk. Learn about Nambour's heritage with a GPS-activated audio trail that features 18 stories of Nambour told by locals and narrated by Powderfinger's John Coghill.
Download the Soundtrails app and enjoy the walking tour of Nambour, or if you cannot get there, the trail can also be accessed from your computer at home. Download the app or listen online.
Visit Nambour Heritage Soundtrail Competition.
Take a step back in time
Take a journey of discovery with the family these holidays and visit our local museums and heritage places. Pick up a copy of the new Discovery Guide or download the app. Enjoy 10 per cent off entry fees at participating museums.
Visit council's Heritage website for a copy of the Discovery Guide.
Collect a free children's art activity kit thanks to the Caloundra Regional Gallery
Call into Caloundra Regional Gallery during the school holidays and collect a free children's activity kit. In conjunction with the current exhibition and the celebration of the gallery's 20 year anniversary the activity kit has been created for children to create a timeline of their lifetime.
The 'My Lifetime' kit contains a poster size timeline scroll, instruction sheet, black fine liner pen and pencil. Collect during gallery opening hours from Tuesday to Friday, 10am to 4pm and Saturday and Sunday from 10am to 2pm.Visit gallery.sunshinecoast.qld.gov.au
Try the great botanic race
If you've got older kids, head to the Maroochy Bushland Botanic Garden to try the great botanic race. Grab a map from the front entry and explore the gardens on this self-guided orienteering challenge. Kids will need to find the mapped points to solve the puzzle along the way. Great for ages 10 years and older.
Trade trash for treasure at the Caloundra Seaside Scavenge
Trade trash for treasure at the Caloundra Seaside Scavenge on Saturday September 26 from 8am to 1pm. Join in at the 'Spring into Scavenge' event to help clean up the waterways. The litter collected becomes a currency to purchase quality pre-loved clothes, books and bric-a-brac.
For every piece of litter collected, you'll be rewarded with Trash Tokens to use in the pop-up market at Caloundra. Learn how to separate and catalogue rubbish to capture data for the Tangaroa Blue Australian Marine Debris Initiative alongside volunteers from local community groups including Sea Shepherd Sunshine Coast, Reef Check, Surfrider Foundation Sunshine Coast and Sunshine Coast Clean Up Divers.
Registrations essential via Event Brite.
Go on an adventure
Search Adventure Sunshine Coast for a walk, ride or paddle and explore a part of the Sunshine Coast you've never been to before. Visit the site to find over 150 walking, paddling, cycling, mountain biking and horse-riding trails. Just select your activity, experience level and location. You'll get a full list of adventures with trail maps, pictures, reviews and tips. Whether you need to challenge your teens or wear out the younger ones, you'll find a free adventure. The hardest part will be choosing! Great for all ages.
Collect your free Sunshine Coast Libraries school holiday pack
Holiday at home this school holidays by registering for the Sunshine Coast Libraries children's programs. Register online now for any of the activities, pick up a resource pack from your nearest library branch, and then jump online to follow the program at home via our library website.
Kids can learn the basics of coding, build and decorate their own kite, or even create a personalised journal.
School Holiday Program activities include:
• Robot Mouse – learn the basics of coding using the cute Robot Mouse
• Pirate life for me – everything you need to become a swashbuckling pirate
• Fly high – build and decorate your own kite
• enviroBLOX – create amazing things with these recyclable blocks
• Pixel art – create works of art with teeny tiny squares of paper
• Steampunk journal – all you need to create a personalised journal.
Note: Programs for ages 7+, some activities may contain small parts.
For more information and to register head to the Library website. Registrations close Wednesday September 23.
Back to all news