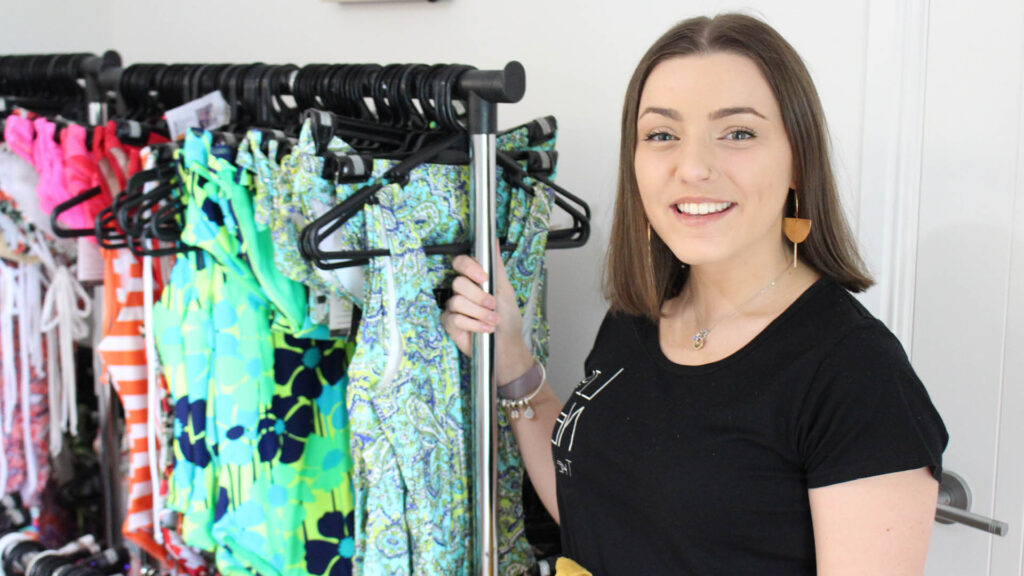 Sunshine Coast local Chloe Murphy has achieved her dream of becoming her own boss at just 20 years old, after using the skills she developed at TAFE Queensland to combine her love of fashion with festival culture.
Chloe discovered she had a talent for fashion in year 10, when she began getting asked about her clothes by her friends. Having always wanted to work for herself, Chloe realised she'd found the perfect business opportunity; however she lacked the skills to produce the quality of garments that she had in mind.
"I started out with just school friends buying my clothes and posting about it on social media," Chloe said.
"Knowing there was a demand for it and that people were willing to pay was the extra push of encouragement I needed to really back myself, so I decided to come to TAFE Queensland so I could ensure quality control."
Chloe enrolled in a Certificate III in Applied Fashion Design and Technology, studying one day a week at TAFE Queensland's Mooloolaba campus over the course of her two final years of high school. There she learned a range of skills she says were essential in helping her set up her business.
"I had already started my business while I was studying at TAFE Queensland, so I knew exactly what I wanted to learn and was able to ask my teachers the right questions," Chloe said.
"Before I did the course, I had never used an industrial sewing machine. The course really helped me, not only with the quality control of my garments, but with putting garments through production and making multiples of the same style. It also taught me a lot about costing and things like digital fabric design."
After graduating from high school and obtaining her certificate in 2015, Chloe began working in a costume store, sewing and doing repairs while she worked on building her business. She particularly enjoyed creating swimwear and playing with fun fabrics and prints, with her designs heavily inspired by the the coastal lifestyle and costume-like creativity of festival culture.
Deciding to play on these influences, Chloe began to sell her designs from stalls at music festivals, including Spendour in the Grass and Falls Festival, with her brand Lionel the Label becoming popular with patrons looking to stand out from the crowd.
"I love festival culture and the glittery outfits, and at summer festivals, girls often wear just swimwear, so I felt this was my ideal demographic," she said.
Chloe has since launched an online store, with the results of her hard work allowing her to focus on her business full time. It's an amazing outcome she is rightfully proud of, but it hasn't been easy to get to this point.
"My age has been a barrier. A lot of the time people – banks and real estate in particular – don't take me seriously. But I've met some really incredible people who have mentored me and helped me out along the way, including my TAFE teachers," she said.
"I've also had to make sacrifices to get to this point. I have to look further than the weekend and work for the long term, but it's been worth it."
Article sourced from: TAFE Queensland. Image credit: TAFE Queensland.
Back to all news