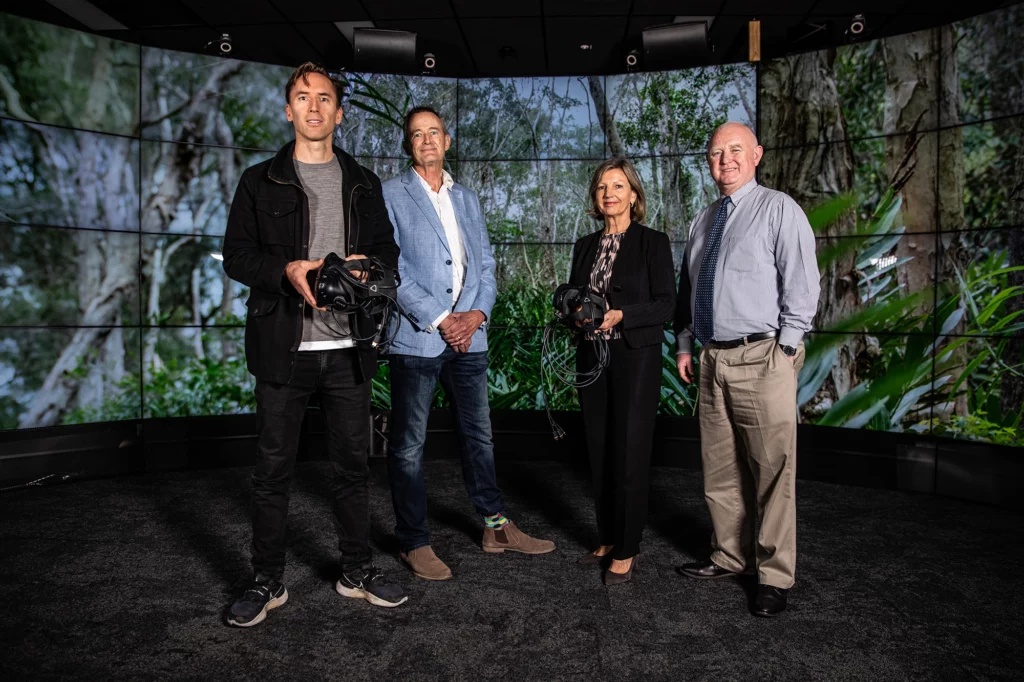 A virtual reality studio seeded by global design brand Josephmark and QLD based Tribus345 is putting down roots at the University of the Sunshine Coast in a pioneering industry partnership.
HavenXR will base its full-scale studio at the Sunshine Coast campus, ensuring their expertise and experience and "regenerative design ethos" are accessible to students, while tapping into the university's latest research and development for their location-based virtual reality (VR) products.
HavenXR is a joint venture under the banner of Josephmark, which has studios in West Hollywood and Brisbane, and Tribus345, a QLD based entertainment and attraction company.
Josephmark gained headlines in 2016 for redesigning MySpace for Justin Timberlake and building We Are Hunted, technology now owned by Twitter, which scans the internet to identify the most popular new music.
UniSC Vice-Chancellor and President Professor Helen Bartlett said the university was constantly strengthening partnerships with industry and had collaborated with the Sunshine Coast Council to achieve the outcome.
"The university is privileged to work with such a prolific global powerhouse that will help us stay ahead of the ever-changing technology sector," Professor Bartlett said.
"By partnering with HavenXR, we are reimagining how research and industry work together to fast-track outcomes for our students, as well as the role designers can play in reshaping our future across practically every industry."
Professor Bartlett said virtual reality design had numerous applications including entertainment, health, education, environmental science, and tourism – particularly with the next Olympic Games in Queensland expected to be the first games fully available by VR.
"Students will have access to real-time industry experience throughout the Bachelor of Design program, with guest lectures and workshops in year one, work-integrated learning in year two, and the opportunity to contribute to products with accelerated pathways to global employment in year three," Professor Bartlett said.
"In turn, their growing venture will have access to a pipeline of job-ready graduates and to academic experts who are also working at the cutting-edge of virtual reality."
Co-founder and CEO, Tracy Whitelaw said "HavenXR already has an agreement with a Malaysia-based partner to establish location based virtual reality centres in the Asia-Pacific region. Following this, we have plans to launch globally with a focus on the US initially within three years. This is a very exciting opportunity for HavenXR and UniSC to be on the global stage."
Co-founder Ben Johnston is originally from the Sunshine Coast and said the Sunshine Coast Council's data cable had been a key deciding factor for staying in Queensland post-COVID lockdowns, as well as the chance to connect with a university that has a strong community focus.
"The Coast may be known for sunny beaches, but the calibre of thinking and talent here is very rich. From an international standpoint, we have always thought the design calibre at UniSC is batting above its weight," Mr Johnston said.
"We think the Sunshine Coast can be a leader in the research and development of cutting-edge technology and production. You don't need the large infrastructure investments that other production studios might, you just need the right types of opportunities and the right mix of creative and tech talent."
He and Josephmark co-founder Jessica Huddart often work from home at their family farm which grows fresh, local produce for the community. While such a grounded lifestyle may seem in stark contrast to a company focusing on the virtual world, Mr Johnston said the farm's focus on regeneration and sustainability are compatible with the core company values of HavenXR.
"Our philosophy is based in regenerative design. It's really easy to get caught up in this high-tech space but we want to consider how these systems can have a truly positive impact ingrained in their design," he said.
This includes everything from considering how "futuristic virtual tourism" might elicit visceral responses that inspire change, for example allowing users to virtually visit an environmental landmark that had been destroyed by climate change.
The university partnership was born from a connection with UniSC Design lecturer Dr Leah Barclay, who Mr Johnston described as a "world-class designer".
Dr Barclay, a sound design specialist who leads the Design discipline in the School of Business and Creative Industries, has been developing a portfolio of interdisciplinary research with HavenXR that focuses on of the communities and ecosystems of the Sunshine Coast.
"One of our first steps with HavenXR has been to establish collaborations with First Nations artists and designers on the Coast to develop the potential of this technology as a tool for knowledge sharing and contemporary storytelling, with Lyndon Davis's solo exhibition at the university art gallery as the first catalyst in this research," she said.
"There are fears about virtual reality taking us out of our physical environment, but what makes HavenXR so exciting is that they are seeking a true integration of the virtual and physical realm, where we are still connected to community, but we can also connect to people or places we otherwise couldn't get to.
"Once they get onsite with our students and innovators, the opportunities really will be endless."
Back to all news