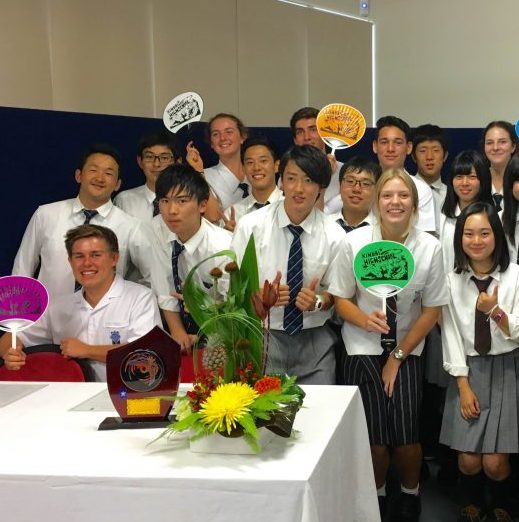 The last two weeks has been a time of great exchange, discovery and fun for both St Andrew's Anglican College students and thirty-five Kindai High students who are visiting the Sunshine Coast on a cultural visit from Japan.
The Kindai students spent 2 weeks on the Sunshine Coast, attending English classes with Lexis English as well as spending time at St Andrew's Anglican College with their Year 10 'buddy' in normal classes.
This learning experience was combined with visits to local attractions such as Australia Zoo and Eumundi Markets, culminating with a cultural day where the Kindai students ran cultural activities and games for the St Andrew's students.
Tim Barrett, Head of Global Learning at St Andrew's Anglican College, said that this relationship between the two schools is one that has been very successful in the past and continues to grow in strength with each exchange visit.
"For many years, St Andrew's has enjoyed its partnership with Kindai High School, which offers a mutually beneficial time of cultural learning and expanding global mindsets" Mr Tim Barrett, said.
The teachers accompanying the students from Kindai have been extremely complimentary about their students time in Australia as Kindai High Teacher, Mr Kinshiro Oba explained.
"The students are having a wonderful time at St Andrew's" Mr Oba said.
"Their confidence in speaking English is improving and they have made a lot of new friends."
An exciting new development in this partnership has been provided by Lexis English  do we need to explain who Lexis are?Japan, who have generously agreed to sponsor two St Andrew's Anglican College students who will spend a month in Japan this September.
Students, Sarah Wrigley and Beth Mahony are enthusiastic to travel to Japan and spend two weeks learning basic Japanese and then two weeks at Kindai High School.
"We are very excited about the opportunity that has been provided by Lexis Japan" Ms Wrigley said.
"I am sure we will return having had some amazing experiences."
The visiting students will be farewelled during a formal assembly and received certificates to recognise their contribution to the life of St Andrew's Anglican College and the community.
Founded in the 1930s, and with an enrolment of more than 4000 students, Kindai High School is one of Japan's most prestigious preparatory schools and provides pathways for students into Kindai University, a globally recognised leader in innovation and science.
Lexis English (www.lexisenglish.com) has welcomed study tour groups from Japanese high schools and universities to the Sunshine Coast for over 25 years. Lexis English is one of Australia's largest privately-owned specialist language training companies, and is headquartered on the Sunshine Coast. Each year, Lexis trains in excess of 7000 students from more than 75 countries at its campuses in Australia, Japan and Korea.
One of Australia's largest privately-owned specialist language training companies, Lexis English is headquartered on the Sunshine Coast and each year trains in excess of 7000 students from more than 75 countries at its campuses in Australia, Japan and Korea. Lexis English provides high quality language courses for students of any level, including Cambridge Preparation, IELTS, General English and Junior Summer Camps.
Sunshine Coast Council Economic Development Portfolio Councillor Stephen Robinson said cultural visits provided great exposure for our region as a desirable location for international students to undertake their future tertiary studies.
"To have students from Kindai High School staying in our region, having a fantastic time here and making social connections during their stay is a terrific potential boost for our Study Sunshine Campaign that aims to attract more international students here for their University studies," Cr Robinson said.
"Our region attracts up to 3,000 international students each year who study at TAFE Queensland East Coast, the University of Sunshine Coast, Lexis English and local schools. Having these international students living here delivers more than $60million a year to our local economy.
"So every opportunity we have to grow our education sector and increase international student numbers is enormously positive for our region and that's what we're working to achieve through the Study Sunshine Coast Campaign. This initiative aims to increase international student numbers by 20% over the next five years. It also aims to attract more interstate students to the Sunshine Coast and retain more local people who are currently leaving our region to pursue higher education opportunities.
"We believe there is no better place to live and study and then live and work and our game-changer projects like the Sunshine Coast University Hospital, the Maroochydore CBD, the expansion of Sunshine Coast Airport and the growing numbers of international companies who are basing themselves here will create a new economy on the Sunshine Coast and deliver outstanding career pathways and choices for local, national and international students."
An initiative of Sunshine Coast Council, the regional Education and Research Industry Taskforce and the newly formed Education Sunshine Coast, Study Sunshine Coast (www.studysunshinecoast.com.au) aims to introduce the 300,000-plus international students who come to study in Australia to the Sunshine Coast and help keep more local students at home for their tertiary education.
Since its launch in April this year, Study Sunshine Coast continues to promote the Sunshine Coast as a premiere study destination within Australia, encouraging students to consider the study options available to them across the region.
Back to all news