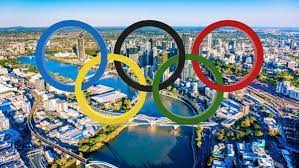 Sunshine Coast Council has welcomed the International Olympic Committee's (IOC) announcement this evening that Brisbane has secured the rights to host the 2032 Olympic and Paralympic Games.
The Sunshine Coast will play an integral role in Brisbane 2032 and be home to four key venues and several sporting events during the Olympic Games, including football, basketball, marathon, mountain biking, cycling and kiteboarding.
The Sunshine Coast will also host multiple days of road-based events (marathon and road cycling) during the 2032 Paralympic Games.
The four proposed Sunshine Coast venues include:
◼️ Kawana Precinct including Sunshine Coast Stadium (football preliminaries) and the proposed Sunshine Coast Indoor Sports Centre (basketball preliminaries) – noting that further investigations into a possible Maroochydore city centre location for the indoor sports centre are yet to be undertaken.
◼️ Alexandra Headland which will be the staging area for road based events (Olympic cycling, marathon and race walks, plus Paralympic cycling and marathon) and host the kiteboarding competition (sailing).
◼️ Sunshine Coast Mountain Bike Centre at Parklands (Olympic mountain bike competition).
◼️ Sunshine Coast Olympic Village which will be located in the heart of the new Maroochydore city centre.
An independent economic assessment by KPMG (https://bit.ly/3xUBV2d), commissioned by the Queensland Government, has indicated the Games will deliver a total benefit of $8.1 billion for Queensland, and $17.61 billion for Australia.
The report also found that the Games would create 91,600 Full Time Equivalent jobs for Queensland.
The games proposal will evolve over the next 11 years. Visit https://bit.ly/3kDHpdY to view the virtual tour of Brisbane 2032.
For more Brisbane 2032 Sunshine Coast information and to subscribe for updates, visit https://lnkd.in/g2N-7j2
Back to all news