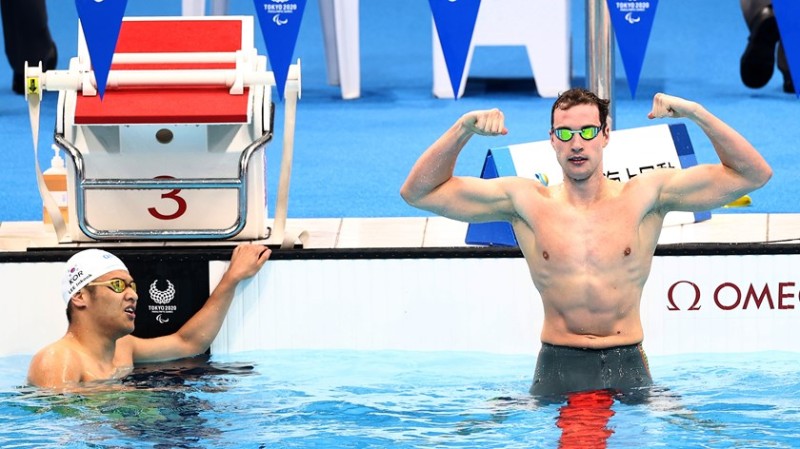 The 10 USC-affiliated athletes selected to represent Australia at the Tokyo Paralympics have done their nation proud with some spectacular performances and sportsmanship.
With the Games drawing to a close this weekend, the USC athletes have competed in 28 events and won 12 of Australia's 72 medals to date (being one gold, three silver and eight bronze).
Most of these medals went to members of the USC Spartans swimming club that had six athletes competing at the Games.  
In the final day of events involving USC athletes yesterday (Friday 3 September), Pro Racing Sunshine Coast cyclist Alistair Donohoe courageously finished fifth in the 92.4km road race after crashing twice in the wet and slippery conditions.
And in the pool, USC Spartans swimmer Braedan Jason finished 6th in S12 100m butterfly final, while team-mate Keira Stephens was 8th in the SM10 200m individual medley.
Results of the 10 USC-affiliated athletes at the Tokyo Paralympic team are:
Ben Hance – gold in S14 100m backstroke; silver in S14 mixed 4x100m freestyle; bronze in S14 100m butterfly
Alistair Donohoe – silver in C5 4km individual pursuit; bronze in road cycling time trial; 5th in road race; 9th in team sprint qualifying
Ruby Storm – silver in S14 mixed 4x100m freestyle; bronze in S14 100m butterfly; 7th in S14 200m freestyle; 7th in S14 200m individual medley; 8th in S14 100m backstroke
Ellie Cole – silver in women's 4x100m freestyle relay; bronze in 4x100m medley relay; 4th in S9 400m freestyle; 4th in S9 100m backstroke; 5th in S9 100m freestyle
Katja Dedekind – bronze in S13 100m backstroke; bronze in S13 400m freestyle, 4th in S13 50m freestyle
Keira Stephens – bronze in SB9 100m breaststroke; bronze in 4x100m medley relay; 8th in SM10 200m individual medley; 9th fastest in S9 50m freestyle
Blake Cochrane – bronze in SB7 100m breaststroke
Braedan Jason – 4th in S13 400m freestyle; 5th in S12 100m freestyle; 6th in S12 100m butterfly
Chris Bond in Australian wheelchair rugby team that finished 4th
Hannah Dodd in Australian women's wheelchair basketball team that finished 9th
Back to all news