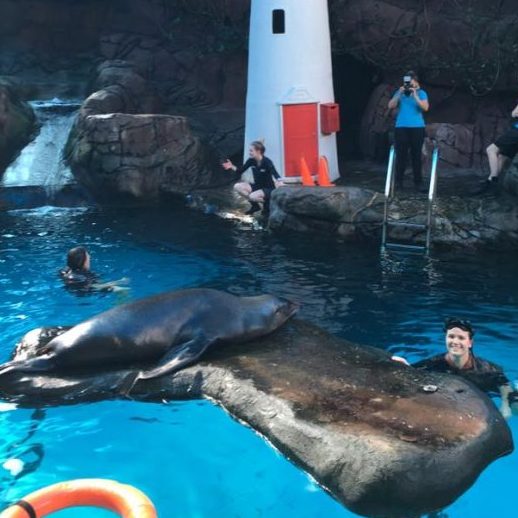 A number of University of the Sunshine Coast and TAFE East Coast students, who act as Study Sunshine Coast Ambassadors, took a break from studies to enjoy and relax at the Mantra Mooloolaba Beach and then get the adrenaline pumping swimming with sharks and seals at SEA Life Mooloolaba last week.
The Study Sunshine Coast Student Ambassadors were invited by Mantra Mooloolaba Beach and SEA Life Mooloolaba to experience a night at a 4-star Mooloolaba resort and an action-packed day at a signature Sunshine Coast attraction.
Study Sunshine Coast Student Ambassador Nadija Hawthorne said the experience was highly enjoyable.
"Study has been really hectic at the moment so to have the chance for a night off with my friends at a great resort and a magnificent beach like Mooloolaba that is so close to University was a real treat and something I am going to do more often because it really helped me relax," Ms Hawthorne said.
"Mooloolaba Beach is an absolutely spectacular place and I can certainly see why it has such a fantastic reputation here in Australia and around the world. We're very lucky to have a beautiful beach like this just minutes from where we study!"
Fabrice Grau, General Manager at Mantra Mooloolaba Beach, agreed that the proximity of the beach to the resort combined with the experiences Mooloolaba has on offer, act a great draw card for students into the area.
"Mantra Mooloolaba Beach is centrally located on the Sunshine Coast so it's the perfect place for students to stay while they are looking for a more permanent home or for those students who just want a break from their busy study schedules," Mr Grau said.
"With the beautiful beach just across the road and great dining and nightlife along the Esplanade, there is always something fun and exciting to do here in Mooloolaba."
Mooloolaba Beach was rated Australia's sixth best beach TripAdvisor's Top 25 Australian Beaches earlier this year. It's the first time Mooloolaba has featured in the Top 25 Australian beaches list on the world's largest travel site that has 350 million visitors a month and comprises 320 million reviews covering 6.2 million accommodations, restaurants and attractions.
Mooloolaba Beach regularly hosts national and international water sports events like the Mooloolaba Triathlon, World Ironman 70.3 Championships and the 2016 Australian Surf Lifesaving Titles. Over the past year Mooloolaba has also become a major port for visiting cruise ship vessels, receiving one of the best reviews among all ports in Australia and the South Pacific
Student Ambassadors spent the following day exploring SEA Life Mooloolaba, with the added bonus of being invited to swim with sharks and seals – a once in a lifetime opportunity.
Student Ambassador Koen Ruijgrok jumped at the opportunity to snorkel with the sharks, stingrays and fish in the main tunnel tank and described the experience as something every Sunshine Coast student should go and do.
"It was incredible and really got the blood pumping! To see the sharks and other sea life up close was so breathtaking," Mr Ruijgrok.
"As an international student, I love that there are awesome experiences just like this right on our doorstep with great deals and discounts for students."
Mr Ruijgrok's fellow Student Ambassador Elsie Ley opted to do one of SEA Life Mooloolaba's famous seal swims where she got up close and personal with the exceptionally cute and fury creatures.
"How cool it is that I can now say to my friends that I have swam with and even touched a seal!" Ms Ley said.
"I really enjoyed talking to the seal trainers about each seals story and their personality, but the best part was definitely being able to pat them and watch them underwater playing right below me.
"I would recommend a visit to SEA Life Mooloolaba for any student on the Sunshine Coast and especially any international student… put this on your Sunshine Coast to do list now!"
SEA Life Mooloolaba Marketing Manager Kristina Neal acknowledged the importance of attracting students to their tourism attraction and jumped at the opportunity to invite the Study Sunshine Coast Student Ambassadors to experience the iconic underwater playground.
"SEA Life Mooloolaba recognises the importance of attracting students to our business as it is undoubtedly a growing market here on the Sunshine Coast which is why we provide discounts and offers for students," Kristina Neal said.
"We were delighted to invite the Study Sunshine Coast Student Ambassadors to come and experience just a couple of our unique animal experiences, Shark Snorkel and Seal Swims."An initiative of Sunshine Coast Council, the regional Education and Research Industry Taskforce and the newly formed Education Sunshine Coast, Study Sunshine Coast (www.studysunshinecoast.com.au) aims to introduce the 300,000-plus international students who come to study in Australia to the Sunshine Coast and help keep more local students at home for their tertiary education.
Back to all news