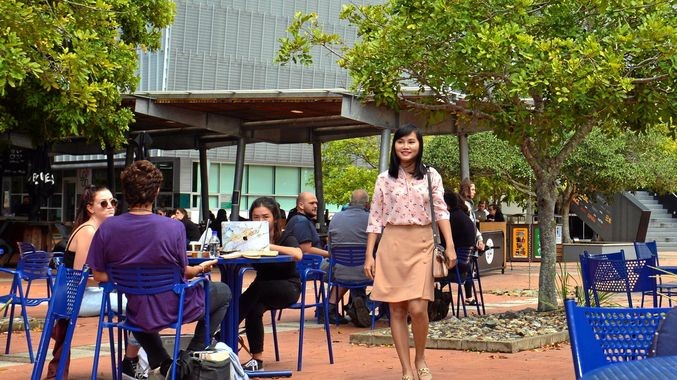 Hear from Study Sunshine Coast Student Ambassador Huyen Vo and her reasons for choosing the Sunshine Coast to study….
Article below from the Sunshine Coast Daily, 6 September 2018:
For Vietnamese student Huyen Vo, the choice to study on the Sunshine Coast was an easy one. She said with the university's good reputation and the lifestyle on offer, many like her made the decision to complete their studies here. New data released by the State Government this week has revealed more people are coming to the Coast to get an education than ever before.
Ms Vo said she could understand why people would choose to make the move. "I believe that when people decide to study abroad, you not only pursue academic study, you want to explore and experience the culture on offer," Ms Vo said. "The Sunshine Coast is definitely a really beautiful place and it was an obvious choice for me. "You can study anywhere now with technology allowing you to do it online so if you choose a destination it should be somewhere you can explore and really appreciate."
Ms Vo, who is studying for her Master of Social Work at the University of the Sunshine Coast, said as an international student she had received a lot of support. "It's a bit of a smaller university here and the community is tight knit and people know and support each other," she said. "I have really good relationships with lecturers and tutors and they are very keen to help international students."It's not only the academic life but I think I have a good social life here too."
USC student Huyen Vo is from Vietnam and is studying for a Master of Social Work. Ms Vo said the university offered a special orientation for international students to help them adjust to life and study in a new country. "I think it is really beneficial for those who have just arrived here," she said. "The staff are great. They ask for feedback, they suggest one-on-one meetings to discuss any problems and make sure you are coping OK."
Tourism Industry Development Minister Kate Jones said the new research from Deloitte Access Economics highlighted that the Coast's international education and training sector had recorded strong growth over the last year. "That's why we're working hard to capitalise on the growth of this emerging sector to lure more students to the Coast," she said."This government is committed to creating jobs on the Sunshine Coast. "That's why we're focused on industries like education that we know are growing and will support more jobs in in years to come."
Image Credit: Sunshine Coast Daily
Back to all news