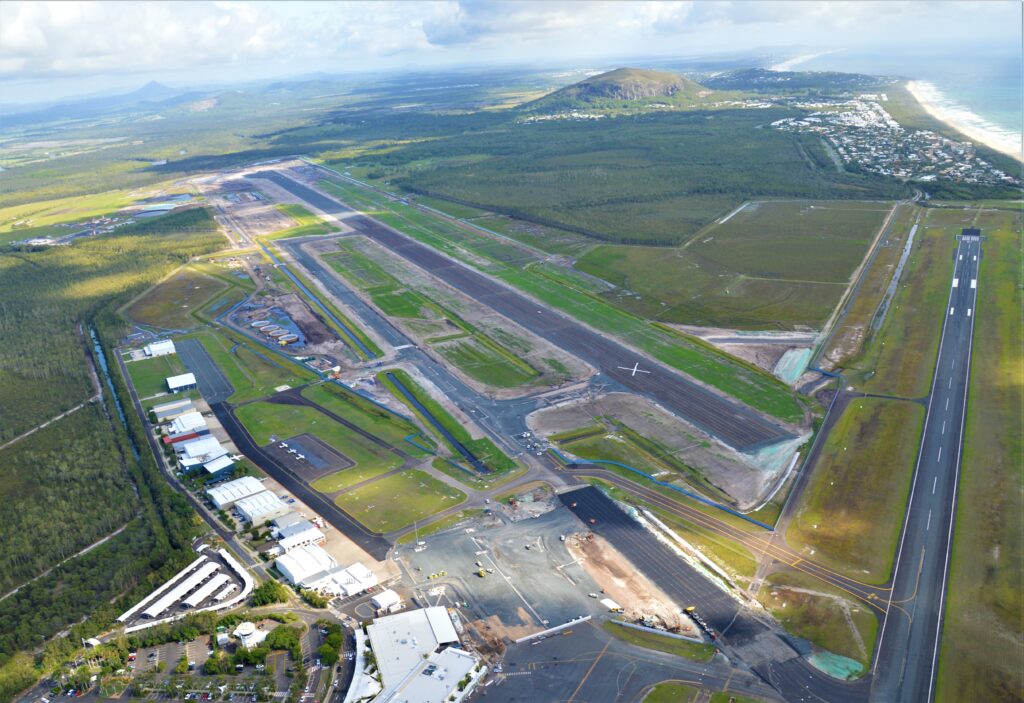 There are less than 100 days until the official opening of the Sunshine Coast Airport's new runway–a historic milestone for our region which is set to change the face of local tourism, business and export and connect our Sunshine Coast with the world.
The first plane is scheduled to land on the new north-west/south-east runway on May 21, 2020, marking a huge achievement for our community and the realisation of a plan that has been in the works since the 1970s. In the coming months, more than 220 workers, many of whom are local, will be onsite each day to put the final touches on the runway, taxiway and aprons.
Works will include the installation of 25 kilometres of lighting conduits, placing the final layers of asphalt and the construction of a conservation corridor to ensure safe passage for wildlife once the runway opens.
Sunshine Coast Council Deputy Mayor and Sunshine Coast Airport Expansion Project (SCAEP) Project Control Group Chairman and Finance Portfolio Councillor Tim Dwyer said the momentum and excitement is building for what will be a great celebration for the Sunshine Coast community.
"We should all feel proud of this achievement and excited about the opportunities it will bring," Cr Dwyer said.
"The  new runway will provide the Sunshine Coast community with a new gateway domestically and globally. "It should lead to greater choice in airlines, destinations and flight times and the potential to attract over 2,000,000 passengers annually.
"Think about what that will mean to our local economy.
"Our local businesses will have renewed pathways to export and will stand to benefit greatly from the increase in tourism."
Cr Dwyer said the runway was a key piece of infrastructure that would meet the demands of our region, now and for future generations.
"By 2040, the new runway will have contributed $4.1 billion to Gross Regional Product and created 2230 new full-time jobs for our local workforce."
The new runway will be bigger, wider and better aligned with prevailing winds and able to accommodate larger, more fuel efficient aircraft.
Councils wishes to thank the community for their overwhelming support for this project over the years – their passion and commitment has delivered this project and we are so appreciative of them.
Back to all news