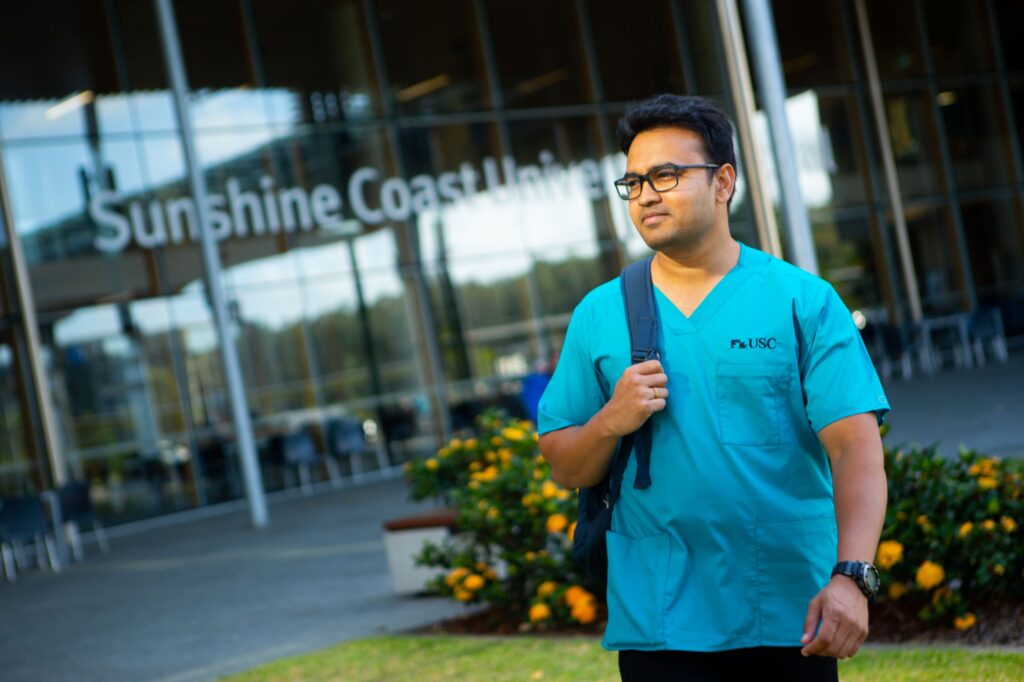 After completing a Master of Health Services, Study Sunshine Coast 2019 Student Ambassador, Ajinkya Kotepatil (AJ) returned to India for a job in health administration. He really enjoyed the role but was not fully satisfied. He felt as if something was missing and wanted to work in a more hands-on job, but he certainly didn't think he would return to Australia. Fate stepped in with a call from an education agent telling him about an opportunity to study nursing at the University of Sunshine Coast. Again, he had never considered living regionally having lived in Brisbane.
"Suddenly everything changed," says AJ. "I quit my job in India and came back to Australia to find out what the Sunshine Coast was all about and of course I loved it! One of the area's big pluses is its close proximity to Brisbane. It is only 90 drive minutes to the city but you get to live in this beautiful regional environment.
"Studying on the Sunshine Coast is so good. In my opinion you can't find a better place to live and work and I really hope to be able to find a job here after I graduate at the end of next year."
AJ has also applied to do some voluntary work with Queensland Health as a way of getting some experience and to give back to the community. Long term he hopes to get into lecturing – after working as a nurse for a while.
Being a student ambassador seemed a natural fit for someone so enthusiastic about studying here. AJ is enjoying participating in the networking events and making connections with other students from Australia and overseas.
He is now working on encouraging his friends in India to come and study here too. His parents are also very excited about being able to spend time on the Sunshine Coast when they come for his graduation next year.
"My Dad loves the beach, so he won't be disappointed," says AJ.
In his spare time AJ enjoys going to his favourite beaches at Mooloolaba and Coolum. He also loves reading and has a hobby interest in astrology. He is a self-confessed 'coffee snob' and his current favourite brew is from Evolution Café at Sippy Downs.
As part of his studies, AJ will commence a nursing placement next month at the new Sunshine Coast University Hospital.
Back to all news