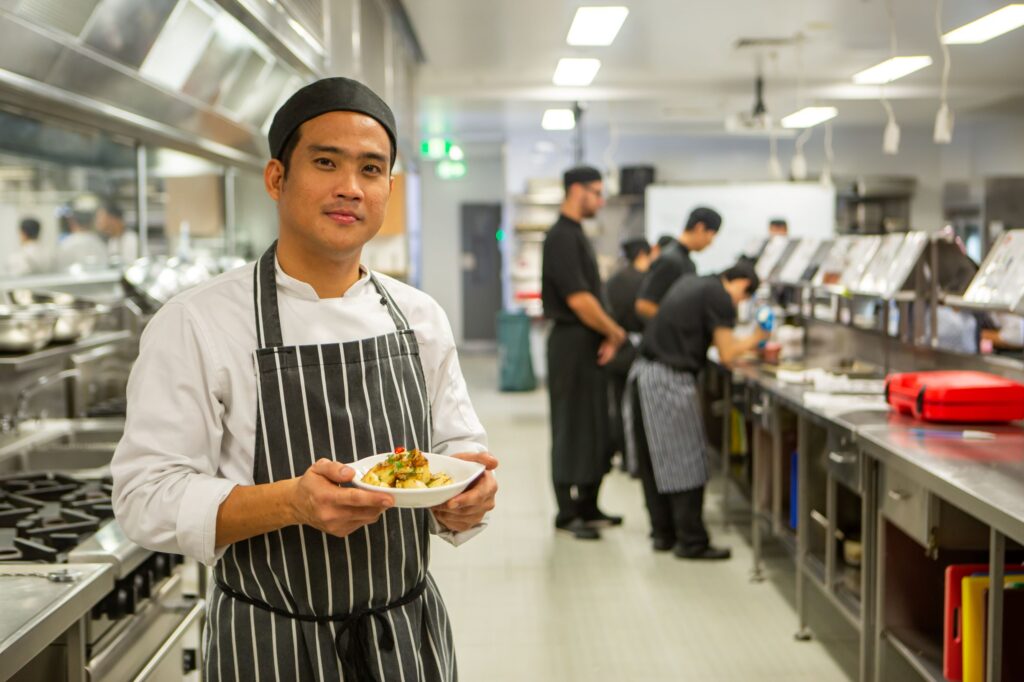 Study Sunshine Coast 2019 Student Ambassador, Harry Paguyo is a passionate foodie. He is currently completing a dual qualification, a Certificate IV in  Commercial Cookery combined with a Diploma of Hospitality Management at TAFE Queensland and has a dream of opening his own restaurant one day.
"I chose to come to study on the Sunshine Coast because of the reputation of TAFE's commercial cookery courses," said Harry.
The program will equip Harry to work within the kitchen at a supervisory level. He is gaining hands-on culinary experience in the preparation of appetisers, salads, stocks, sauces, soups, seafood, meat, poultry, breads, pastries and cakes. He is also developing supervisory skills and learning how to manage diversity in the workplace, implement sustainable practices, provide leadership, manage finances, and coordinate cooking operations. He is learning advanced skills needed to manage a hospitality establishment including rostering, budgeting, marketing, and people management. The training restaurants also teach him customer service skills and he can choose from electives such as how to operate a bar and prepare espresso coffee.
Successful completion of this course will enable Harry to enter the workforce as a chef or chef de partie, or to work in a management role in a diverse range of hospitality settings.
"I had visited Sydney and Melbourne before but found them too busy. I think the Sunshine Coast is such a great environment. It's not too congested and the people are really friendly – and there are some great restaurants here. At the moment I am loving Thai food."
Harry is here with his family. His wife is studying nursing and they have three children aged 13, 8 and 3. He finds the wide-open spaces and parks the perfect playground for his children to grow up in. The family also like water sports and going to the beach.
"We also love going to Aussie World and Australia Zoo," says Harry.
When he is not studying or caring for his children Harry works as a weekend cook at Guzman Y Gomez.
Harry also volunteers as a student mentor for International students who need support settling in. As a result of his good work he was referred to the Study Sunshine Coast Student Ambassador program. He applied and was successful.
"I am loving it. We get to do fun things – the Tree Top Challenge has definitely been a highlight," says Harry. "I also write blogs and post about our life on the Sunshine Coast on social media.
Harry is busy trying to convince his friends in the Philippines to come and live and study on the Sunshine Coast. They are all really interested, and he has one friend who is moving here soon.
Back to all news