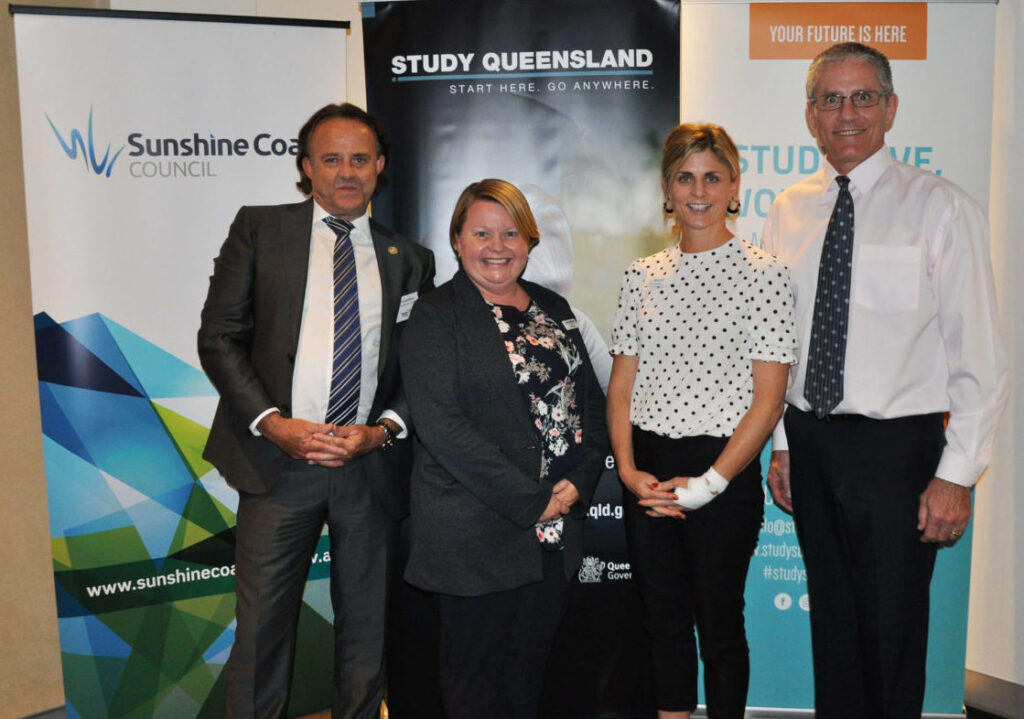 The Sunshine Coast's position as a leading study destination has been further strengthened by the launch of the Study Sunshine Coast (SSC) Industry Membership Program.
The program will further enable SSC to bring together local education providers, industry members and tourism operators to promote the region's education, tourism and lifestyle offerings to the world.
Members will be provided with access to programs, events and workshops, with further opportunities to leverage funding and marketing initiatives through SSC.
Study Sunshine Coast is an initiative of Sunshine Coast Council in collaboration with Education Sunshine Coast and plays an important role in positioning the region as a leading Australian study destination.
International education is a high value market for Sunshine Coast tourism due to a student's length of stay, spend and the role they play in encouraging visiting friends and relatives (VFR) to the region. In 2017, the VFR market brought 764 international visitors to the Sunshine Coast who contributed $2.4 million in visitor expenditure.
In total, the Sunshine Coast's education and training industry contributes $1.052 billion to the economy and employs more than 13,000 people.
SSC Project Manager Marina Murray said she was delighted to officially launch the Industry Membership Program on 12 September together with Study Queensland Business Development and Partnerships Manager Nicole Patterson, Sunshine Coast Council Deputy Mayor Cr Tim Dwyer and Visit Sunshine Coast CEO Simon Latchford.
"As the official study cluster for the region, Study Sunshine Coast works closely with local industry to foster working relationships so we can together strengthen our position as a leading Australian study destination," she said.
"The Industry Membership Program will assist local education providers, industry and tourism operators to promote their respective organisations while marketing the region to both domestic and international students through destination promotion.
"We look forward to continuing to grow the study tourism sector through the Industry Membership Program and other SSC initiatives such as the Student Ambassador Program, which encourages students to share their study experience with friends and relatives back home."
Sunshine Coast Council Deputy Mayor Cr Tim Dwyer said the Sunshine Coast offers students a unique study experience, combining world-class institutions with a safe and enviable lifestyle.
"Our Sunshine Coast offers local and international students world-leading opportunities – with a strong, growing economy, outstanding global connectivity and cutting-edge facilities that inspire learning today and create leaders for tomorrow," he said.
"Our region is increasingly a magnet for big thinkers, emerging leaders and inspiring global talent. In addition to our local graduates, international students are an important part of this talent and workforce pipeline."
The Industry Membership Fund is one of four SSC projects that received a combined $100,000 from the Queensland Government's International Education and Training (IET) Partnership Fund over the last two years. The IET Partnership Fund is managed by Study Queensland within Trade and Investment Queensland (TIQ).
Ministerial Champion for International Education The Honourable Kate Jones said the Queensland Government helped regional centres leverage the value of education as part of its recently launched Start Here, Go Anywhere initiative.
"Education is a proven way to widen the economic, tourism and cultural potential of regional areas,'' she said.  "Through the Industry Membership Program, SSC will harness the collective strength of local education providers, industry members and tourism operators to take their region to the world.
"I look forward to more students from around Australia and the world considering the Sunshine Coast as the place to unlock their futures."
The SSC Industry Membership Program has already proven a success, with The University of the Sunshine Coast, TAFE Queensland and CQUniversity signing on as Tier 1 Institutional Members and the International College of Queensland, Union Institute of Language, AusID Global and Real Estate Institute of Queensland as Tier 2 Associate Members.
To learn more about Study Sunshine Coast and the benefits of the Industry Membership Program, visit studysunshinecoast.com.au/membership.
Back to all news