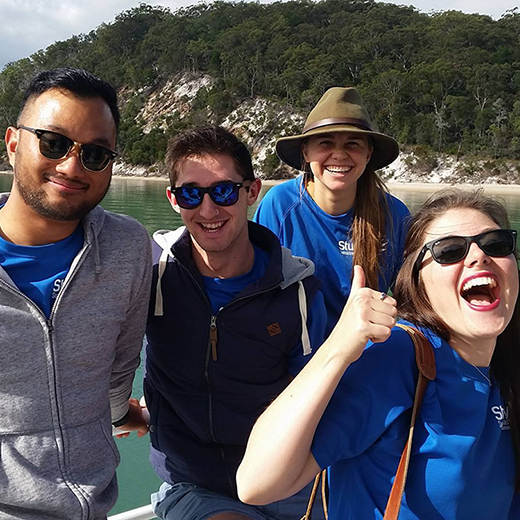 Eight enthusiastic Study Sunshine Coast student ambassadors got a taste of island living last week when they visited Fraser Island.
The student ambassadors were invited and hosted by Kingfisher Bay Resort to experience a 3-day Cool Dingo tour across the Island which included Fraser Island bucket list activities such as swimming in the crystal clear waters of Lake McKenzie and getting a bird's eye view of the spectacular natural scenery from the top of Indian Head.
Originally from faraway places such as Scotland, South Korea, The Netherlands, Sweden and closer to home from Victoria, New South Wales and Noosa, for most of the student ambassadors this was their first visit to Fraser Island, where they embarked on a Cool Dingo tour with thirty other young international travellers.
Study Sunshine Coast student ambassador John Cameron, from Pigeon Ponds in Victoria, said it was his first ever trip to Fraser Island and he couldn't believe the biggest sand island in the world is right on the doorstep of the Sunshine Coast.
"I have lived and studied on the Sunshine Coast for a few years now and I had never been to Fraser Island before last week," Mr Cameron said.
"I didn't realise how close it is to the Sunshine Coast, but now I know I will definitely be returning to visit more often!"
The Fraser Island Group Cool Dingo tour is aimed at 18 – 35-year-old travellers from all walks of life across the world who want to explore a precious part of Australia's natural and cultural heritage.
Many students from local, national and international locations travel up the east coast of Australia to visit Fraser Island and experience a Cool Dingo tour where they can see everything the island has to offer and meet new and interesting young people.
Study Sunshine Coast student ambassador Koen Ruijgrok from the Netherlands said the Cool Dingo tour was the best way to see as much of Fraser Island as possible in a short amount of time and would recommend the trip to other students on the Sunshine Coast and from all over the world.
"The Cool Dingo tour shows you the best of what Fraser Island has to offer including amazing blue freshwater lakes, white sandy beaches and amazing wildlife like dingoes and whales," Mr Ruijgrok said.
"I think Fraser Island is a place every student from the Sunshine Coast should visit during their studies, especially since the Sunshine Coast is the gateway to the Fraser Coast.
"It's an affordable, fun and memorable short getaway for Sunshine Coast students when we have a few days off, over a weekend or are on a break between study semesters."
Kingfisher Bay Resort Group General Manager, David Hay said the resort was proud to welcome the students who shared their experiences on Fraser Island during their visit on social media and blogs.
"There aren't too many university or TAFE campuses in the world that have access to an incredible natural wonder like Fraser Island right on their doorstep, so we encourage students, both locally and internationally to come and take advantage of the incredible natural experience we have to offer," Mr Hay said.
Fraser Island's Cool Dingo tours (www.cooldingotour.com) combine amazing scenery, great people from all over the world, laughs and good times into one action-packed, eco-accredited adventure on Fraser Island.
The student ambassadors from Study Sunshine Coast had an incredible, one in a life time experience on the Fraser Island Cool Dingo tour and highly recommend the tour to other students from the Sunshine Coast as well as other national and international students.
A video, filmed by the student ambassadors themselves, documents and showcases the adventure and activities experienced on the Fraser Island Cool Dingo tour (click here to watch video).
Back to all news