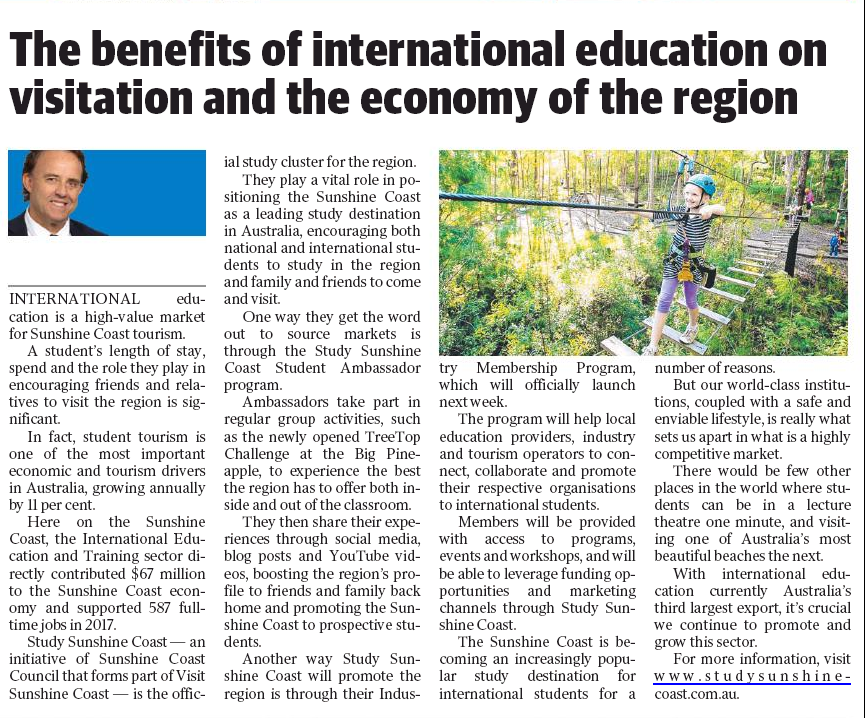 In his weekly Talking Tourism column in the Sunshine Coast Daily newspaper, Visit Sunshine Coast CEO Simon Latchford discussed last Saturday 7 September the benefits of international education on visitation. Read below Simon's column.
International education is a high value market for Sunshine Coast tourism.
A student's length of stay, spend and the role they play in encouraging friends and relatives to visit the region is significant. In fact, student tourism is one of the most important economic and tourism drivers in Australia, growing annually by 11 per cent.
Here on the Sunshine Coast, the International Education and Training sector directly contributed $67 million to the Sunshine Coast economy and supported 587 full time jobs in 2017.
Study Sunshine Coast – an initiative of Sunshine Coast Council that forms part of Visit Sunshine Coast – is the official study cluster for the region.
They play a vital role in positioning the Sunshine Coast as a leading study destination in Australia, encouraging both national and international students to study in the region and family and friends to come and visit.
One way they get the word out to source markets is through the Study Sunshine Coast Student Ambassador program.
Ambassadors take part in regular group activities, such as the newly opened TreeTop Challenge at The Big Pineapple, to experience the best the region has to offer both inside and out of the classroom.
They then share their experiences through social media, blog posts and YouTube videos, boosting the region's profile to friends and family back home and promoting the Sunshine Coast to prospective students.
Another way Study Sunshine Coast will promote the region is through their Industry Membership Program, which will officially launch next week.
The program will help local education providers, industry and tourism operators to connect, collaborate and promote their respective organisations to international students.
Members will be provided with access to programs, events and workshops, and will be able to leverage funding opportunities and marketing channels through Study Sunshine Coast.
The Sunshine Coast is becoming an increasingly popular study destination for international students for a number of reasons.
But our world-class institutions, coupled with a safe and enviable lifestyle, is really what sets us apart in what is a highly competitive market.
There would be few other places in the world where students can be in a lecture theatre one minute, and visiting one of Australia's most beautiful beaches the next.
With international education currently Australia's third largest export, it's crucial we continue to promote and grow this sector. For more information, visit www.studysunshinecoast.com.au.
Back to all news