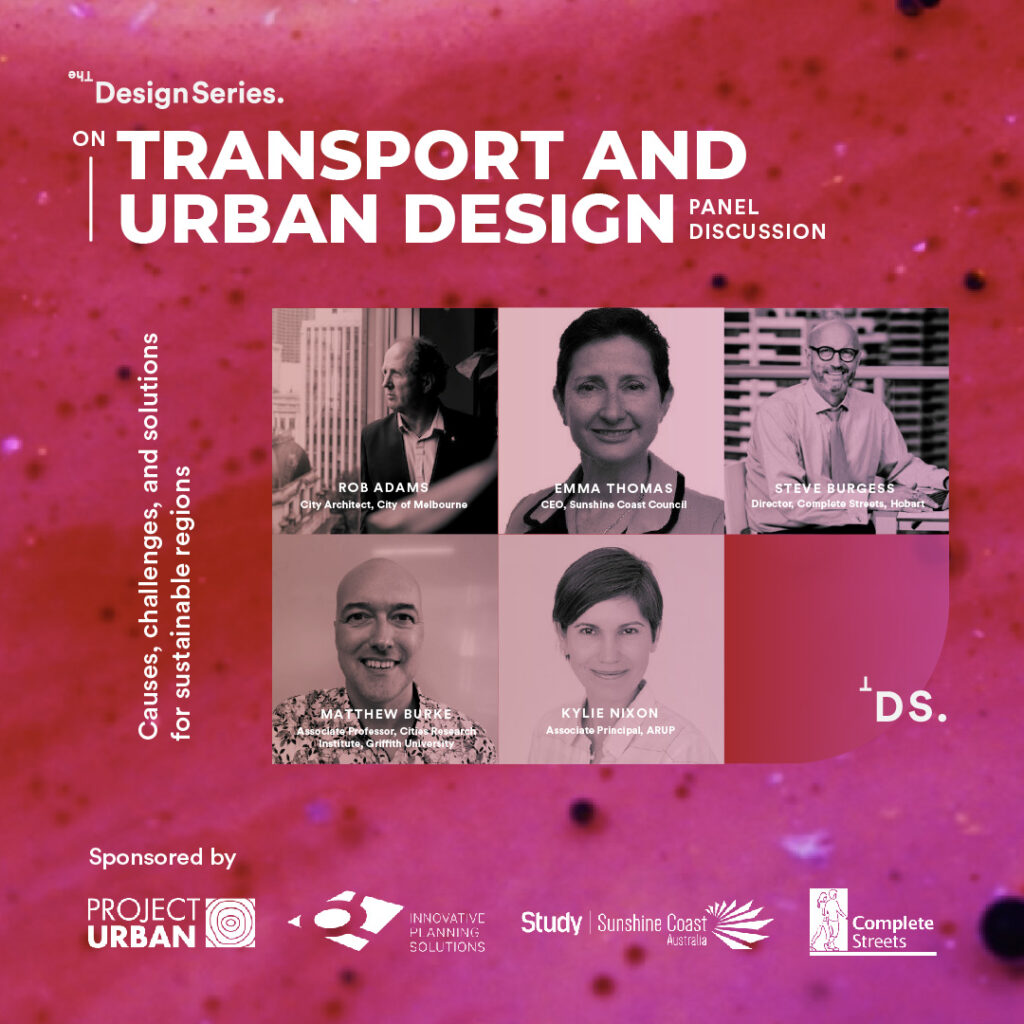 Study Sunshine Coast is delighted to invite Sunshine Coast students to The Design Series special event on Transport and Urban Design, framed by a panel of local and national speakers on how sustainable quality regions are formed. The event is being held this Thursday 20th May at The MET in Maroochydore from 5.30pm – 9pm. Register here
Join the in-depth conversation with perspectives from Rob Adams, Emma Thomas, Steve Burgess, Kylie Nixon and Matt Burke that together will help us better understand the role of integrated transport planning in retaining the quality of lifestyle we desire, while producing cities and villages that are livable, economically viable and socially inclusive.
Rob Adams – City Architect, City of Melbourne.
Steve Burgess – Director, Complete Streets, Hobart.
Emma Thomas – CEO Sunshine Coast Council.
Matthew Burke – Associate Professor, Cities Research Institute, Griffith University.
Kylie Nixon – Associate Principal, ARUP.
Students will get to meet and chat with the panel prior to the event, join industry for the event and then enjoy assisted networking and discussions afterwards.
Thanks to Project Urban, Innovative Planning Solutions, Study Sunshine Coast and Complete Street for sponsoring the event!
Ticket includes individual food, live music, and artworks, drink tickets provided by Study Sunshine Coast. All profits from the BAR go to the Sunshine Coast Creative Alliance and direct investment into local creative projects.
The Design Series is presented by SunCentral and the MET in partnership with key industry groups AIA, AILA, EA, PIA, SCCA & PLA.
The Design Series has been created to deliver thought provoking content and facilitate connections across key industry groups from the Arts, Architecture, Digital, Engineering, Environment, Landscape and Planning Sectors.
TDS on TRANSPORT & URBAN DESIGN
THURSDAY 20 MAY, 5.30-9pm
The Metropolitan (MET) cnr First Ave and South Sea Islander Way, Maroochydore.
Register here
Back to all news